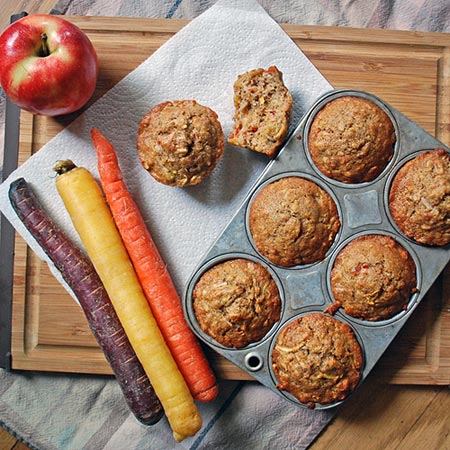 Rainy day = baking day. The little man wanted muffins so I found a bunch of things I wanted to use: 1 Brown Banana, applesauce, apple, and these beautifully colored carrots I just picked up from Trader Joes.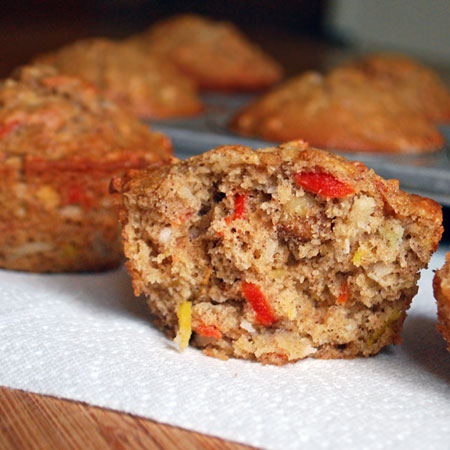 I altered the morning glory muffin recipe on this blog and came up with these… equally glorious muffins! The little one decided to call them Happy Easter muffins because the Easter bunny like carrots so much.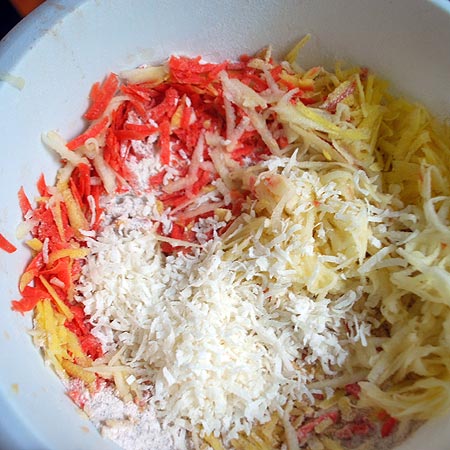 Little man chose the white and "red" carrots.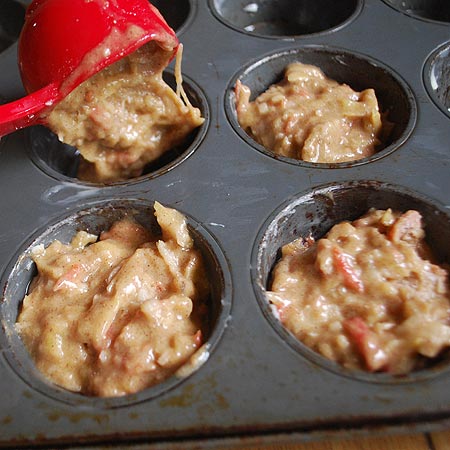 Scoop with the 1/4 baking cup for perfectly sized muffins, we got 17 muffins from this batch. If you have leftover spots in your muffin tray, just fill with a few tablespoons of water so it doesn't warp the pan or give off a burning smell.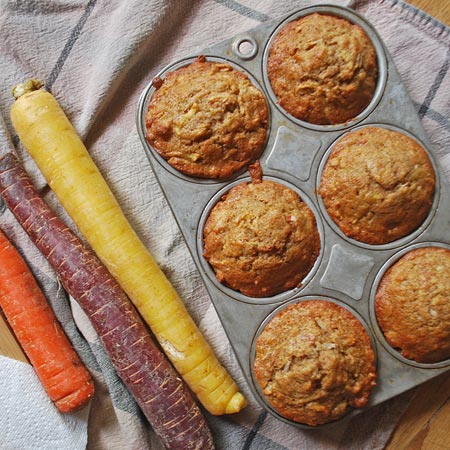 Muffins so good you will be hoppin' with joy!
Happy Easter Muffins
Sweet and delicious muffins packed with carrots
Ingredients
3 eggs
1 mashed brown banana
¼ cup apple sauce
¼ cup vegetable oil
1 tablespoon vanilla extract
1½ cups all-purpose flour
½ cup whole wheat flour
1¼ cups white sugar
1 tablespoon ground cinnamon
2 teaspoons baking powder
½ teaspoon baking soda
½ teaspoon salt
2 large carrots, peeled and grated
1 apple – peeled, grated
¼ cup walnuts, chopped
¼ cup flaked coconut (unsweetened, but if using sweetened reduce the amount of sugar in the recipe by a few tablespoons)
Instructions
Preheat oven to 375F. Spray your muffin tins with non stick cooking spray (or rub thoroughly with butter and vegetable oil).
In a medium bowl, whisk and mash the eggs, banana, apple sauce, veg. oil, and vanilla. Set aside.
In a larger bowl, whisk together the flours, sugar, cinnamon, baking powder and soda, and salt.
Add your grated carrots, apple, coconut, and walnuts to the flour mixture and stir until coated.
Combine the egg mixture with the flour mixture to form your batter.
Scoop by a ¼ cup into prepared muffin pan.
Bake for about 12-15 minutes or until the muffins bounce back when lightly pressed on top.