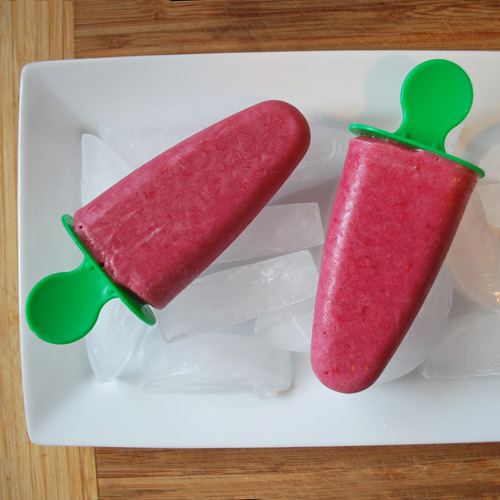 Healthy in disguise treats are a mom's best friend. I found this low cal nutrition packed fruit smoothie featured in the most recent issue of Cooking Light magazine and thought it might be more fun on a stick. I increased the amount of banana and milk so that the consistency would be nice in a popsicle mold, plus we love the creamy goodness of banana. You can serve this up as a smoothie though if you prefer.

Although the days are becoming shorter, there is still enough daylight left to play outside after dinner. Thats when we have our popsicle dessert because it means no sticky messes in the house to clean up. Thats my favorite time of day… sitting outside when the heat has finally subsided and the sun is setting, the kids are playing with dirt, sand and soccer balls and I get to kick my feet up and put my nose in a book. Goodbye summer!
Recipe: PB & Berry Smoothie Pops
Summary: adapted from Cooking Light Sept 2012
Ingredients
1/2 cup milk
1 ripe bananas
1 cup raspberries (frozen or fresh)
3/4 cup crushed ice
1 Tbsp creamy peanut butter
Instructions
Blend everything together until smooth. Pour into popsicle molds and freeze overnight until solid.
Preparation time: 5 minute(s)
Freezing time: 6-8 hour(s)
Number of servings (yield): 8