For some time now, I have been experimenting with creative ways to color my bread dough. My favorites being matcha tea powder, cocoa powder, and turmeric powder. I have also tried a few different types of natural food dyes but with little to moderate success. (see Ladybug bread, and Butterfly Bread).
Recently, I contacted a company called Natures Flavours, and they graciously sent me a rainbow pack of natural food dyes. These dyes are all natural, vegan, gluten free, certified Kosher, and contain no synthetic chemicals. They sound amazing… but do they work? The quickest way to test all 5 colors was to make a rainbow bread.
The results were so shocking, they actually made me dance in my kitchen. Finally! A natural food dye that created brilliant, vibrant colors even after baking! The colors were evenly distributed and showed no signs of fading. Every color in the rainbow pack was true to color except for the red. The red (not unlike other products I have worked with) turned out to be more of a dark pink in the bread dough.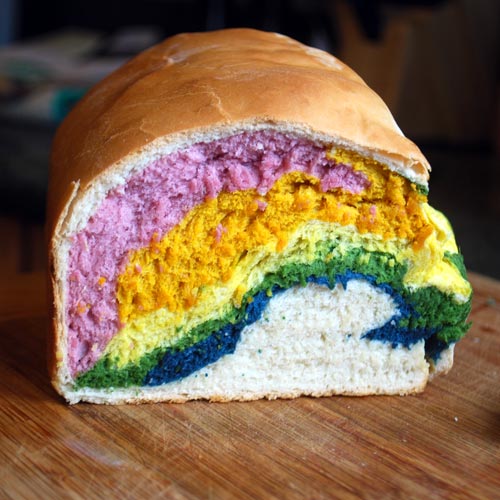 This product is far superior to others that I have used and will be sticking to this brand. I just made some dinosaur bread with the orange and blue, so check back in a few days!
Note – I was not charged for these natural food dyes, but all the opinions expressed here are my own.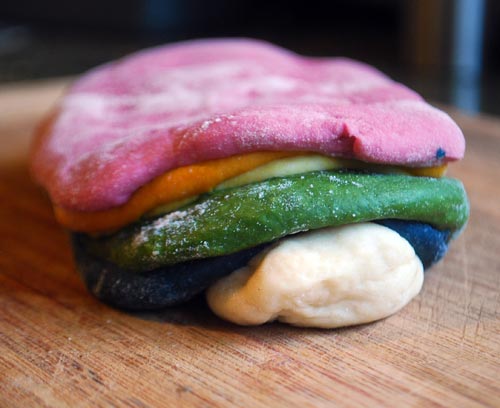 Recipe: Rainbow Bread
Ingredients
1 cup warm water
2 tablespoons vegetable oil
2-1/4 teaspoons active dry yeast (1 packet)
1/4 cup honey
3/4 teaspoon salt
3 cups all-purpose flour
Natures Flavours Rainbow Pack of Natural Food Colors
Instructions
Stir the warm water and yeast in the bread machine, wait 5 minutes for it to foam. Then add remaining ingredients (except the food coloring). Set on dough setting. (If you don't have a bread machine, make this like any other bread.. knead the dough, let rise in warm area.)
Separate into 6 dough balls. Color your dough by using an electric mixer with the paddle attachment, a small squirt of the food coloring, and mix until the dough is even. Do this for all 5 colors, leave 1 dough ball white. Wipe clean the mixer between each color mix.
Shape your bread! Use a rolling pin, pizza cutter or chopper if you have it. Place into a greased 9×5″ bread loaf pan. Cover with a towel. Let it rise for 30 minutes.
Bake at 350 for about 30 minutes or until you get a golden crust. Slice and Enjoy. Store in a ziploc bag to retain freshness or it will get hard over night.
Preparation time: 20 minute(s)
Cooking time: 30 minute(s)
Number of servings (yield): 12