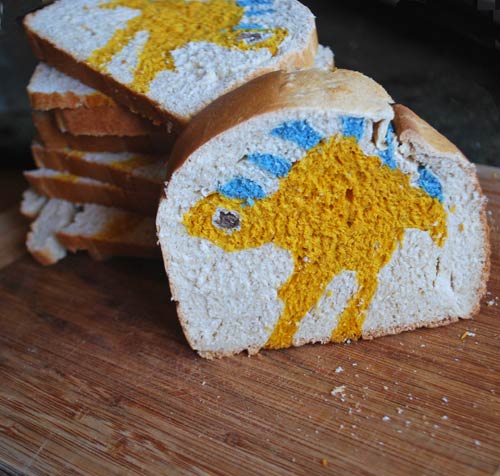 My 4 year old boy thought it was pretty awesome to have a dino sandwich for lunch.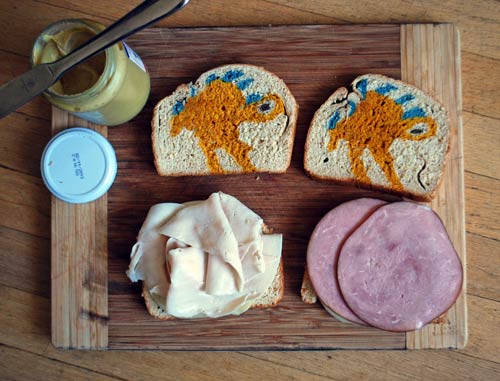 The orange and blue colors are made using a natural food dye by Nature's Flavours (see my last post to see more colors). The eye ball is made with cocoa powder.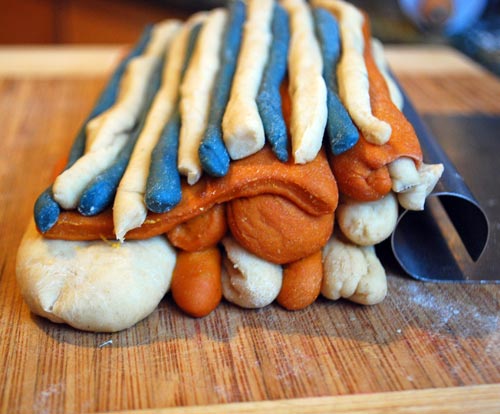 This was a fun one to make. But, it seems with every bread I make, when I see the final result its easy to spot the problems with the original assembly. In this case it was the white dough underneath the tail and between the legs. If it was thinner then the dinosaur would have had a nicer form. The tail just rose too high in the air. I would have added an extra dough roll for a longer neck too.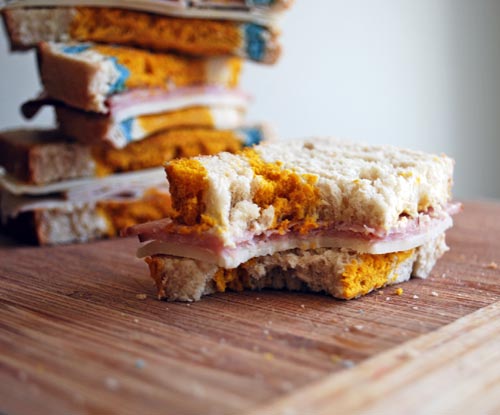 This is made with a honey wheat bread loaf recipe, an alteration from my white sweet bread recipe. The boys didn't notice a difference and the dough was very shapeable.
To see step by step instructions on how to make this bread and many other examples of bread art, check out my new eBook!
Recipe: Dinosaur Bread
Ingredients
1 cup warm water
2 tablespoons vegetable oil
2-1/4 teaspoons active dry yeast (1 packet)
1/4 cup honey
3/4 teaspoon salt
2 cups all-purpose flour
1 cup wheat flour
Natures Flavours Pumpkin orange Natural Food Dye (or artificial orange food coloring gel)
Natures Flavours Blue Natural Food Dye (or artificial blue food coloring gel)
cocoa powder (if making an eyeball)
Instructions
Stir the warm water and yeast in the bread machine, wait 5 minutes for it to foam. Then add remaining ingredients (except the coloring and cocoa powder). Set on dough setting. (If you don't have a bread machine, make this like any other bread.. knead the dough, let rise in warm area.)
Separate into 2 dough balls, one being much smaller. Use an electric mixer with the paddle attachment to knead the red into the small dough.
Shape your bread! Use the photo above to help. You will need a rolling pin, and pizza cutter or chopper if you have it. Place into a greased 9×5″ bread loaf pan. Cover with a towel. Let it rise for 30 minutes.
Bake at 350 for 30 minutes. Slice and Enjoy. Store in a ziploc bag to retain freshness or it will get hard over night.
Preparation time: 1 hour(s) 40 minute(s)
Cooking time: 30 minute(s)
Number of servings (yield): 12