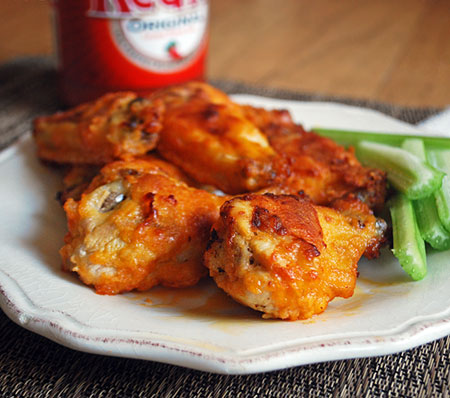 Let me just start by saying I grew up in Buffalo, NY and therefore I know how a good chicken wing should taste.
Yes, I know how obnoxious that sounds, but it's true. I mean I literally grew up having them with every pizza night and every football game and every family get together. I just know that when you travel outside of the Western NY region and go to say.. Long Island, they have no clue how to make them. On the flip side, the same can be said about pizza… once you leave NYC and go "upstate" the pizza just goes down hill from there.


When I moved away I realized (1) no one knew what a Beef on Weck sandwich was, and (2) just how hard it would be to find a place serving decent wings.
What? You don't know what Beef on Weck is? That post will be for another day.
So I had to start making them myself. The best and easiest recipe I have found, and confirmed by mother as the proper way to do it, is this one.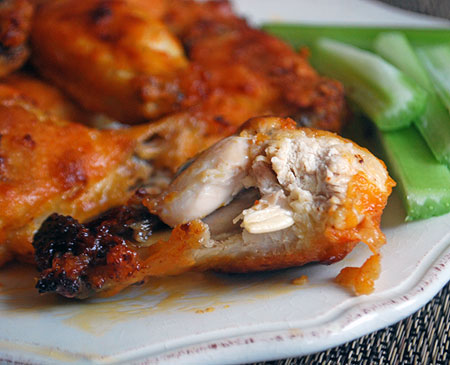 With Super Bowl Sunday fast approaching, and sadly knowing that the Buffalo Bills will yet again be absent from the festivities, at least I will feel better knowing a little piece of Buffalo will be with me.
Reader be warned: these wings are so good that even in polite company you will be licking your fingers before you catch yourself reaching for a napkin.
Authentic Buffalo Chicken Wings
Tip- toss with more use more hot sauce after baking if you want them really spicy. Adapted from
All Recipes
Ingredients
¾ cup all-purpose flour
½ teaspoon cayenne pepper
½ teaspoon garlic powder
½ teaspoon salt
20 chicken wings (if you wash them first, make sure they are completely dry before starting)
Sauce
½ cup butter, melted
½ cup Frank's RedHot Original Cayenne Pepper Sauce
Instructions
Stir the flour, cayenne pepper, garlic powder, salt together in a large mixing bowl.
Dredge the chicken wings in the flour mixture until each are fully coated. Put the whole flour bowl with the wings into the fridge for at least an hour.
Preheat the oven to 400F.
Make your sauce, let it stand for about 5 minutes so it slightly thickens (I find it sticks nicely to the wings that way).
Prepare a large baking sheet lined with foil.
Now dip each flour-coated chicken wing into the sauce, lay it onto the baking sheet.
Bake for 45-50 minutes, turning the wings once about halfway through baking to ensure they cook evenly.
Serve them up with blue cheese dressing and celery sticks. Enjoy!