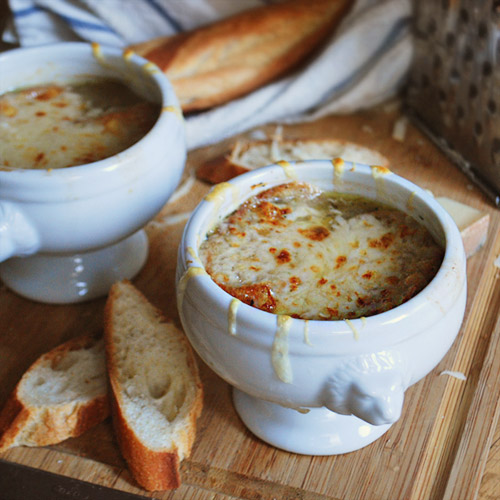 Thank you to my husband who thoughtfully gave me these beautiful classic french lion head soup bowls for Christmas this year. They remind me of our time living in Switzerland; every time we ordered soup when dining out, it would be served up in a bowl just like this.

They just make the soup look even more appetizing in my opinion! Not that this recipe needs any help, its fantastic all on its own. Just use oven safe bowls to make this delicious french onion soup on a cold day to warm you up. Enjoy!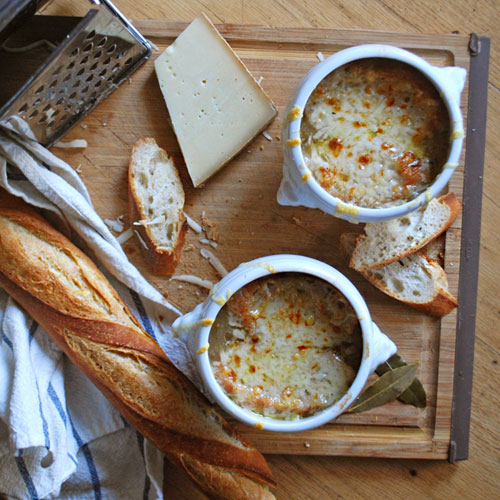 French Onion Soup
Ingredients
½ cup unsalted butter (1 stick)
4 onions, sliced
3 garlic cloves, chopped
2 bay leaves
½ tsp thyme
sprinkle of kosher salt and black pepper
1 cup red wine
3 tbsp all-purpose flour
2 quarts beef broth
1 baguette, sliced diagonally
Gruyere or Fontina (or swiss cheese), grated or sliced
Instructions
Melt butter in a large soup pot over medium heat. Stir in the sliced onions, garlic, bay leaves and thyme. Sprinkle in some kosher salt and pepper. Let cook down for 30 minutes, stir only once or twice until the onions are a brown color and caramelized.
Add the wine, stir and cook for another 5 minutes.
Add the flour, stir and cook for another 5 minutes.
Finally, add your beef broth and bring to a gentle simmer, cook for 10 minutes. Remove from heat.
When you are ready to eat, ladle the soup into oven proof soup bowls, top with sliced bread and cheese. Broil in the oven for about 5 minutes or until the cheese is bubbly and brown.