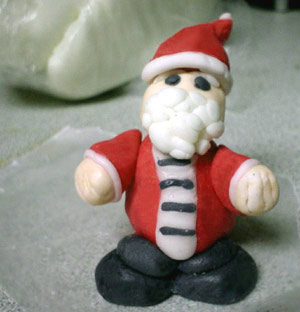 If this little Santa Claus doesn't make you jolly… I don't know what will! What a fun way to cheer up the dessert table. Just place santa next to your holiday cookie platter, or bowl of punch, or plate of fudge and wait for all the ho ho ho's coming from your guests! The best thing is, this jolly old elf can be made with all your leftover fondant.

How to make this…
Prepare Fondant, you will need a small amounts of black, red, and peach fondant.
Feet: Form 4 small balls to create the feet, use your judgment on size
Body: Create a large ball to form Santa's body.  Stretch the body to make the desired shape then place him on the black feet.  Use stripes of white and black to create the design on Santa's costume
Arms: Roll 2 small peach balls for the hands and 2 stretched red balls for the arms. Use a small amount of water to make the arm and hands stick.  Use a toothpick or a knife to indent lines for his fingers.
Sleeve: Roll out a long piece of white fondant to resemble a piece of spaghetti.  Cut into 2 pieces and wrap around the hand to create the white sleeve effect.  When the arms are ready, use a little water to make them stick to Santa's body. You may want to use small tooth picks to secure the arms to his body.
Head & Beard: Use a peach ball for Santa's head, black balls for his eyes,  and small white balls to form his beard.  Water will act as a good glue to keep these together.
Hat: Form his hat with the red fondant and then wrap a piece of the white fondant for the trim and a little white ball for the tip.
Tip: Place this Santa in the center of your holiday cookie platter to make it an extra special gift!