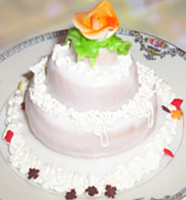 I had an October wedding and so for my bridal shower, my mom made these amazing mini wedding cakes… one for each guest. To stay true to the fall wedding theme, she sprinkled fall leaves around the base. It was such a nice way to serve dessert because rather than handing out pieces of cut cake, each person was instead presented with a small miniature wedding cake! It somehow made it more personal and special. For such tiny cakes, they sure were a huge hit!

Special Supplies…
How to make this…
Make The Flowers
You will need to make roses (or other type of flower) with royal icing for the cake top, these can set overnight. The ones pictured were airbrushed after they dried for an uneven more natural rose look. But you can color your icing before making the flowers as an alternative. If you don't already know how to make roses, you can refer to the Wilton website where they have tutorials for all sorts of flowers.
Bake the Cakes
Using a special multi-tier cake pans, bake your cakes. These pans come in a wide variety of shapes and sizes. My mom used a muffin like pan that baked 6 cakes at a time.
Frost the Cakes
To frost the cakes, place them on top of cookie racks laid over waxed paper or a baking sheet. Then use a watered down frosting glaze and pour over the cakes. Frosting all these tiny cakes will be very time consuming unless you use this method.
Add the Details
Using buttercream frosting prepared in a frosting bag, with tip #2, squeeze hard an make the squiggly border. You can also get creative here and make any border you wish.
Top the Cakes
Take your prepared roses, brush on a little buttercream frosting under the rose to make it stick, place on top of the cakes. Then use green buttercream frosting prepared in a bag with tip #67 and make the leaves.
Finish it Off
Shake on a few sprinkles for an easy finish!