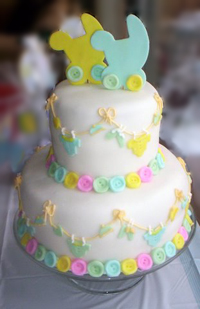 My twin sister and I were pregnant with our first babies at the same time… both boys and only 3 weeks a part! So our family threw us a combined baby shower. With some help and guidance from our expert-cake-decorator mom, we made this cake for our shower, complete with baby buttons and baby clothing. We used alternating colors and lined up the buttons to create the border. They are also used to embellish the buggy wheels for the cake topper. The clothes were rolled fondant cutouts of onsies, socks, and bibs. We heard a lot of oooo's and ahhhhh's so I think its safe to say our family was impressed with our handy work! Wow, that was actually the last cake we made together as a team, about 1 year ago already.

Special Supplies…
How to make this…
Bake the Cakes
Figure out how many people you will be serving and then choose your cake pan sizes. For our example we made 4 cakes: 2  large cakes and then stacked them, and again 2 smaller sized and stacked them.
Frost the Cakes
Frost with white buttercream for a base. Don't worry about imperfections, this is simply used as a base. Then roll out white fondant frosting and lay on top of the buttercream layer. Smooth it over and trim off the excess.
Make the Buttons and baby clothes
Get a big ball of white fondant, separate into chunks, and then color them with the colors of your choosing. Add color gradually so you don't go too dark. (Note -while working with one color, keep the rest wrapped in plastic so they don't dry out.) Now raid your refrigerator and/or pantry… look for 2 different sized bottle caps. Roll out one color with your rolling pin. Use the larger cap to cut out all your buttons. Use the smaller cap upside down to make the imprint for the center of the button. Get a toothpick (use the thick end) or a fork. Make two notches for the button holes. Now cut out baby clothes using either tiny cookie cutters or by hand. Repeat with the other colors. Let them dry on wax or parchment paper.
Decorate
Use a #1 or #2 tip to make clothes lines. Make bows where the droopy lines meet. Squeeze a little buttercream frosting on the back of your clothes and then stick to your cake on the lines. Also use buttercream frosting on the back of the buttons and stick to the cake to form a border.
Top it Off
The cake topper is rolled fondant that is shaped from a baby carriage cookie cutter. It was left to dry over night and then a straw is used for support from behind. You can use more buttons for the carriage wheels. We used two carriages because we were celebrating two babies!
Tip: Keep all dried unused buttons and clothing in a plastic bag to be used at a later date. Roll up all unused fondant tightly in plastic wrap and then in a ziploc baggie to be used another time.