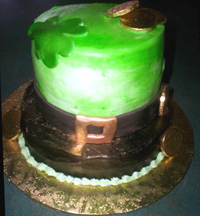 Why not celebrate St. Patrick's day with a cake this year? Nothing screams 'Happy Irish day' better than a Leprechaun hat detailed with clovers and gold coins… brilliant!
Special Supplies…
How to make this…
Bake Cakes
Bake 1 size 8 or size 9 round cake. Also, 3 size 6 round cakes.
Stack em Up
Stack the 3 small cakes on top of the 1 large cake. Frost  the bottom with black buttercream or chocolate frosting and frost the top with green buttercream frosting. You can also use colored fondant if you wish.
Make the Buckle Band
Roll out some black fondant, trim a long strip roughly 1 inch in width. Wrap this around the top hat to form the band.
Make the Buckle
Use the leftover trim from the band you just made and cut a small square from the center to form a buckle. Shake a small amount of gold powder onto some wax paper or a plate. Dip your brush into the vodka, then into the gold powder, now paint the buckle. Vodka is used because it dries very quickly. Now lie this buckle on top of the black strip. Try to cover the place where the strip ends meet so the strip is seamless. Use buttercream frosting to help it stick.
Add Details
Cut out several shamrocks from green fondant using a cookie cutter and then decorate the hat. Then randomly place gold wrapped chocolate coins to finish the look.
Tip: Use gold foil on the cardboard or cake plate to compliment the gold buckle and coins.