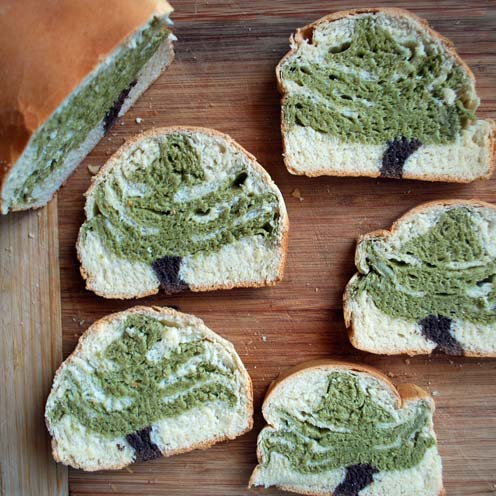 A perfect bread for nature lovers, camping trips, or for the holidays… its beautiful and delicious smothered in red jam.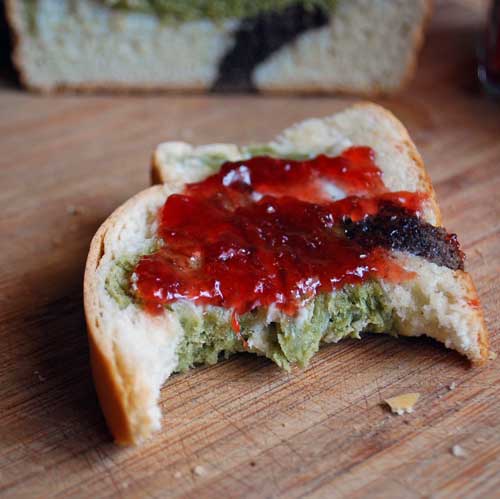 I'm dedicating this one to my grandfather, a man who built a log cabin on his property using only a few hand tools. He chopped down about 75 pine trees and it took a few years, but he and my grandmother eventually moved into the cabin where they lived in the warmer months. When we went to our grandparents house we were always playing outside. He was an amazing and inspiring man and left me with unforgettable memories.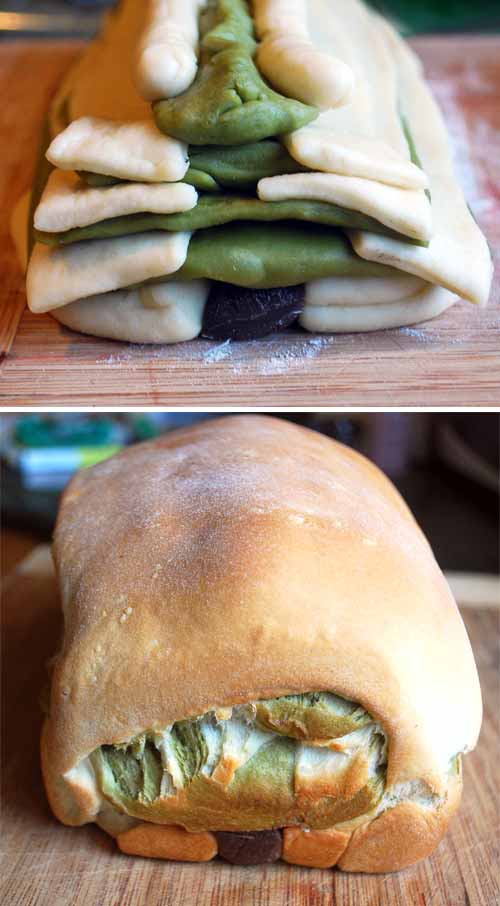 The green color was achieved using matcha green tea powder which I found at Whole Foods, but you can also find it online. It's pricey, but a wonderful alternative to food coloring if you want a more natural bread.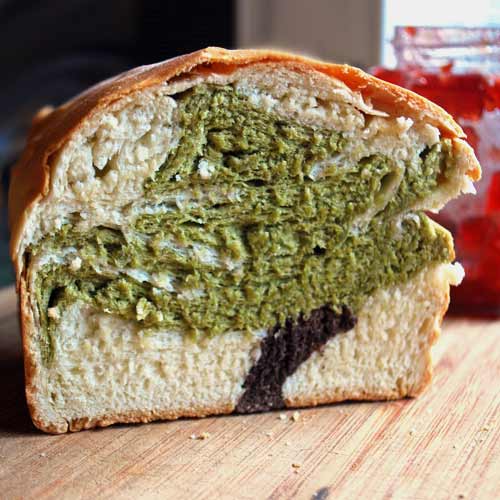 To see step by step instructions on how to make this bread and many other examples of bread art, check out my new eBook!
Recipe: Evergreen Bread
Ingredients
1 cup warm water
2 tablespoons vegetable oil
2-1/4 teaspoons active dry yeast (1 packet)
1/3 cup white sugar
3/4 teaspoon salt
3 cups all-purpose flour
cocoa powder
matcha green tea powder or green food coloring
Instructions
Stir the warm water and yeast in the bread machine, wait 5 minutes for it to foam. Then add remaining ingredients (except the cocoa powder and matcha powder). Set on dough setting. (If you don't have a bread machine, make this like any other bread.. knead the dough, let rise in warm area.)
Separate into 3 dough balls (1 large, 1 medium, 1 small). For the green color, place the medium dough ball in an electric mixer with the paddle attachment. Add a little matcha tea powder (about 1 tablespoon) and mix… repeat until you get the right green color and dough is even (you can knead by hand to help). Wipe clean the mixer. Add the next small dough ball to the mixer and add cocoa powder, mix and knead until you get the desired color.
Shape your bread! Use a rolling pin, pizza cutter or chopper if you have it. Place into a greased 9×5″ bread loaf pan. Cover with a towel. Let it rise for 30 minutes.
Bake at 350 for 30 minutes. Slice and Enjoy. Store in a ziploc bag to retain freshness or it will get hard over night.
Preparation time: 2 hour(s)
Cooking time: 30 minute(s)
Number of servings (yield): 12