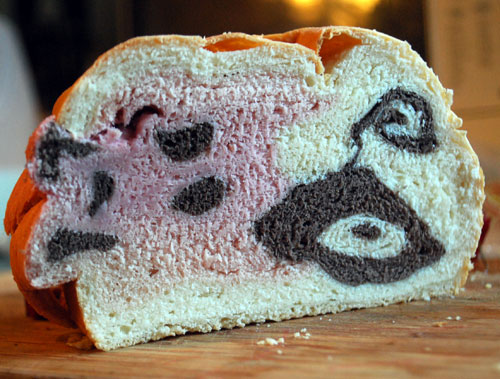 Doh! Not the result I was hoping for. As noted in my Butterfly Bread, I tried using a natural food dye for the red color. It made a beautiful pink colored dough, so I was hopeful… but after baking the pink faded, sigh.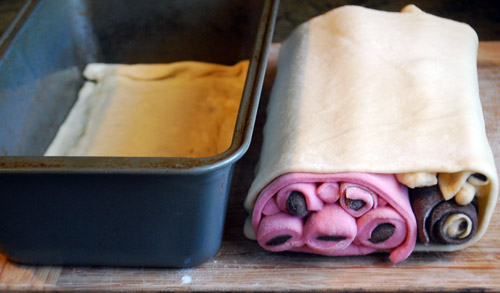 I realize now that the biggest problem was that the ladybug should have been much smaller, it needed more room to grow during the baking. The assembly was pretty simple and very similar to turtle bread. I'm going to attempt this one again, I think it could be really cute!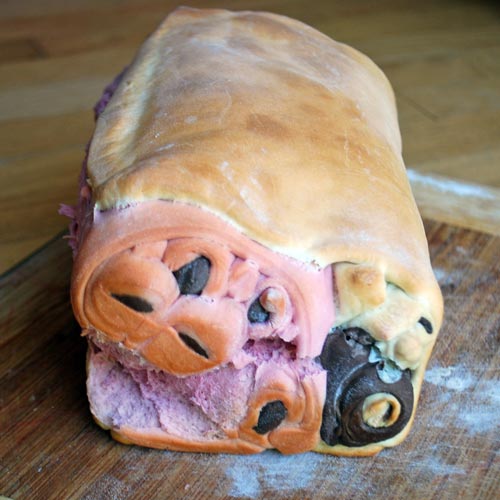 I wasn't sure if the natural food dye would effect the taste, but it didn't, the bread was delicious and gone in 2 days. We usually make french toast the next morning. I noticed that the cocoa flavor really comes out when its toasted, so good.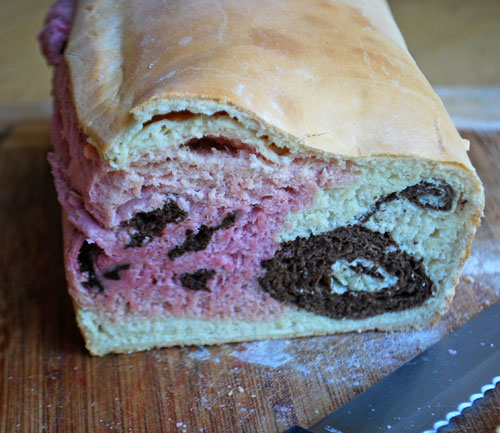 My next projects: Bumble bee bread, pine tree bread.
Recipe: Ladybug Bread
Ingredients
1 cup warm water
2 tablespoons vegetable oil
2-1/4 teaspoons active dry yeast (1 packet)
1/3 cup white sugar
3/4 teaspoon salt
3 cups all-purpose flour
cocoa powder
red food coloring
Instructions
Stir the warm water and yeast in the bread machine, wait 5 minutes for it to foam. Then add remaining ingredients (except the cocoa powder and red coloring). Set on dough setting. (If you don't have a bread machine, make this like any other bread.. knead the dough, let rise in warm area.)
Separate into 3 dough balls. For the brown color, place dough ball in an electric mixer with the paddle attachment. Add a little cocoa powder and mix… repeat until you get the right dark brown color and dough is even (you can knead by hand to help). Wipe clean the mixer. Add the next dough ball to the mixer and add red coloring, mix and knead until you get the desired color.
Shape your bread! Use can also use the turtle bread photos for help, these two breads are so simliar. Use a rolling pin, pizza cutter or chopper if you have it. Place into a greased 9×5″ bread loaf pan. Cover with a towel. Let it rise for 30 minutes.
Bake at 350 for 30 minutes. Slice and Enjoy. Store in a ziploc bag to retain freshness or it will get hard over night.
Preparation time: 1 hour(s) 40 minute(s)
Cooking time: 30 minute(s)
Number of servings (yield): 12