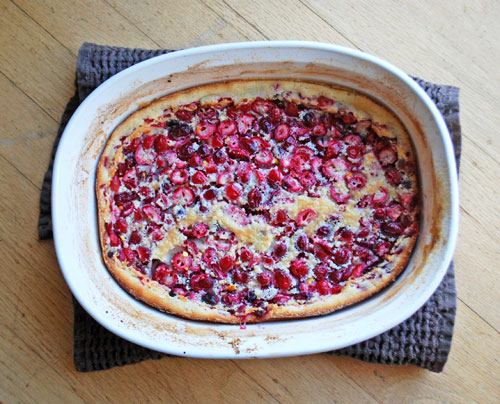 My first ever clafouti. Having never had "clah-fooo-tea" before I am unable to tell you how it compares to other clafouti recipes… but I can tell you I loved it. I am definitely a bread pudding, tapioca, rice pudding kind of gal, so I guess its not too surprising that I polished off half the dish on my own.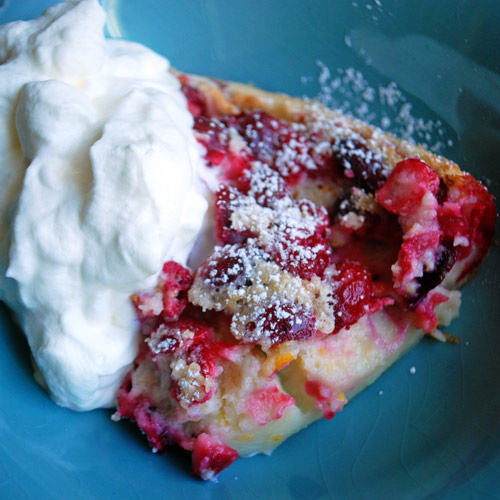 Its a very simple dish to make, and looks so beautiful. It tastes like flan but more cake like, very creamy and thick with lots of flavor. You could easily substitute any berry/flavor combinations, you just pour the batter over the top of whatever suits your fancy and bake. I like the cranberries though.. the red looks so pretty to me and I love the big flavor. Traditionally, clafouti is made with cherries… according to wikipedia, if the dish is made with any other fruit then it is called flaugnarde.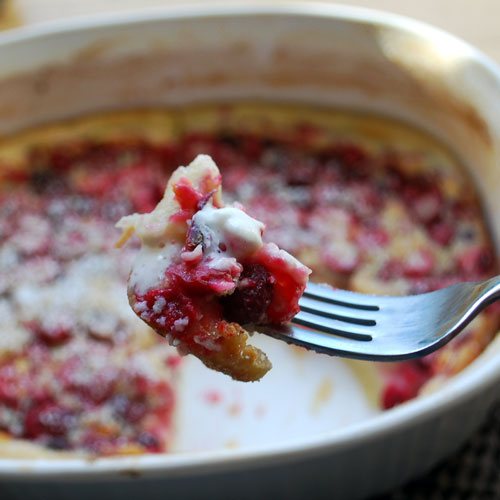 This would make a really beautiful Valentine's Day dessert for your special someone. Enjoy!
Summary: adapted from Martha Stewart
Ingredients
unsalted butter to butter baking dish
1/2 cup plus 2 TBSP granulated sugar
1/4 cup plus 2 TBSP all-purpose flour
Pinch of salt
2 large eggs
3/4 cup chilled heavy cream (+extra for whipped topping to serve)
3/4 cup whole milk
2 tsp orange zest
1 1/2 cups cranberries, coarsely chopped
powdered sugar for garnish
Instructions
Preheat oven to 400.
Butter a 1 quart non-metal baking dish.
Sprinkle about 2 TBSP of sugar into the dish and shake to coat evenly.
In a large mixing bowl, stir the remaining sugar, flour, and salt.
Gradually whisk in eggs, cream, milk and zest.
Scatter the chopped cranberries into dish.
Pour batter over the top and bake for about 33 minutes until puffed and brown around edges.
Cool (it will sink).
To serve: Whisk about 1/4 cup cream until soft peaks form. Dust clafouti with powdered sugar and serve with whipped topping.
Preparation time: 15 minute(s)
Cooking time: 33 minute(s)
Number of servings (yield): 4