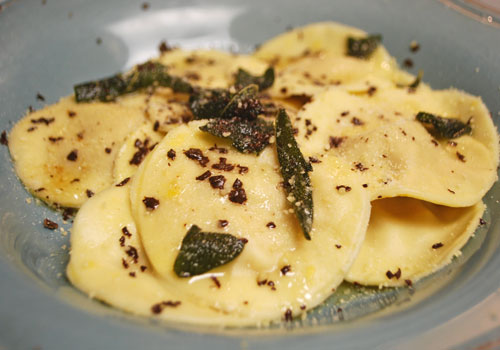 I have a new toy in the kitchen, well its not really "new", its actually about 20 years old, but its new for me. My mom found a pasta maker buried in storage and she shipped it cross country to me. My mom is awesome.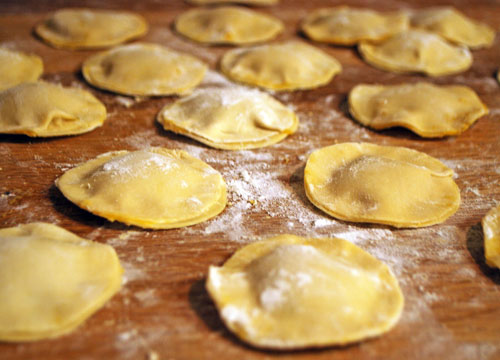 "Oh boy", I thought, "my little one is going to LOVE this!". And of course, he was fascinated with the whole pasta making process and wanted to run everything through the rollers… "crayons mommy?", "this paper would be good", "How about cheese?".
Yaaaaa, I had to set some boundaries. He wasn't allowed to put his fingers close to the machine, but he was allowed to hold the pasta and lay it down to dry. He also helped punch out circles. So far we have made spaghetti and ravioli.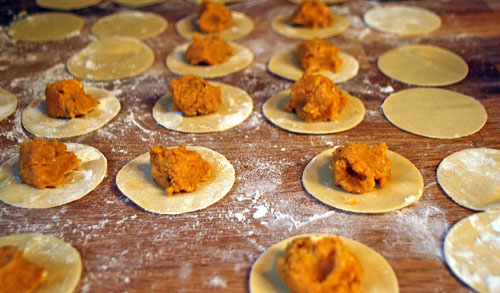 For the filling and sauce I used a recipe I found on the web. It used some of my favorite ingredients… chocolate, squash, and molasses. It was good, but not so good that I would make it again any time soon. Very time consuming!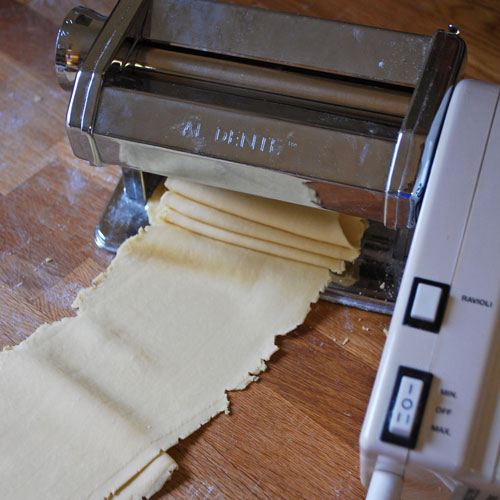 Fresh pasta just can't be beat. The dough is very simple, just flour and egg. It looks kind of rough at first, but the way to get nice smooth dough is all in the kneading process. The kneading occurs with the machine, you just feed it through over and over again until you get it smooth and thin. If you are thinking about getting a machine, make sure you get the motor. The hand pump… ouch I am cringing… will be painful.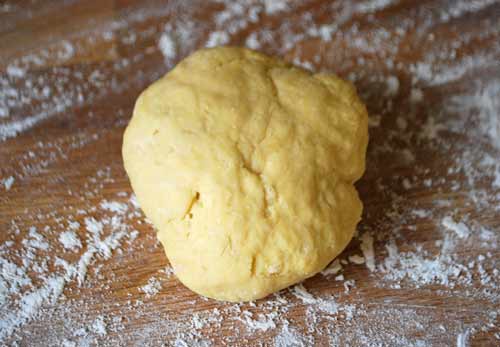 I used a whole squash, it made so much filling that more of it went unused than used. I would recommend saving time… use canned pumpkin and adjust the ingredients for the filling to your taste. This is the recipe I used by Michael Chiarello on the Food Network.
Recipe: Butternut Squash Filling
Ingredients
1 small butternut squash, cut in half lengthwise and seeded.
2 TBSP molasses
2 tsp balsamic vinegar
2 TBSP unsalted butter
1/4 cup ricotta cheese
2 Tbsp grated Parmesan
1/4 tsp ground cinnamon
1/4 tsp ground nutmeg
Instructions
(Make filling ahead and refrigerate if needed.)
Preheat oven to 375. Rub molasses onto the flesh of the squash. Place face down in a greased baking pan, bake for 1 hour until soft.
Scoop out the squash into a bowl. Add the ricotta cheese, parmesan cheese, cinnamon and nutmeg. Salt and pepper to taste.
Heat the butter in a pan over medium-low heat, until it begins to change a golden color. Remove from heat and add remaining 1 tablespoon molasses and the vinegar. Stir into squash mixture.
Preparation time: 5 minute(s)
Cooking time: 1 hour(s)
Recipe: Pasta Dough
Instructions
Put the flour in a large bowl. Make a well in the center of the flour and break the eggs into the well. Then slowly mix the flour into the egg with a fork.
If its too dry when combined, work in a little water.
Cover the bowl with a damp towel, let rest for 15 minutes.
Start the pasta machine setting at its highest level (7 for me).
Break off a small amount of the dough, keep the other portion covered. Work dough through machine, fold and repeat. Adjust setting to lower level and repeat again. Do this until the dough is thin and smooth.
Cut circles out of the dough using an upside down cup or glass or cookie cutter.
Start to boil your water in a large pot.
Put about a TBSP of filling onto each circle.
Use a paintbrush to wetten the edges, cover with another dough circle, press down.
Boil until raviolis float, then boil for an additional 2 minutes.
Serve with sauce.
Resting time: 15 minute(s)
Preparation time: 30 minute(s)
Number of servings (yield): 4-5
Recipe: Sage Brown Butter Sauce
Ingredients
4 TBSP sweet butter
8 fresh sage leaves
Parmesan & bittersweet Chocolate, for garnish
Instructions
Melt the butter over medium heat in a pan, add sage leaves and stir until the butter becomes light golden.
Remove from heat.
Spoon over ravioli.
Grate fresh parmesan and chocolate over the sauce to your liking.
Enjoy!
Preparation time: 1 minute(s)
Cooking time: 4 minute(s)
Number of servings (yield): 4-5