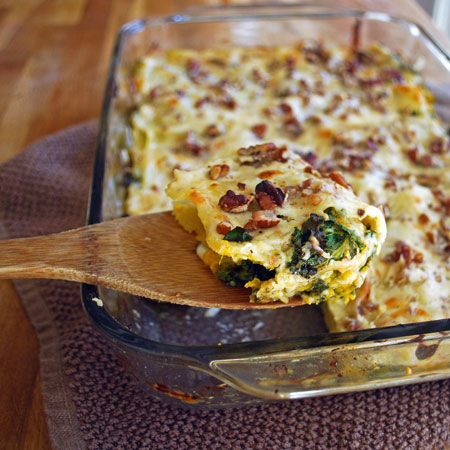 I just love trying new lasagna recipes. This one is from the latest Cooking Light magazine so it's practically guaranteed healthy and delicious.
Ok, so it would have been health-"ier" had I not doubled the cheese.
But can you blame me? Who wants lasagna if it's not smothered in cheese?


No red sauce for this lasagna. It calls for a glorious milky cheesy white sauce that takes a few minutes to make on the stove top.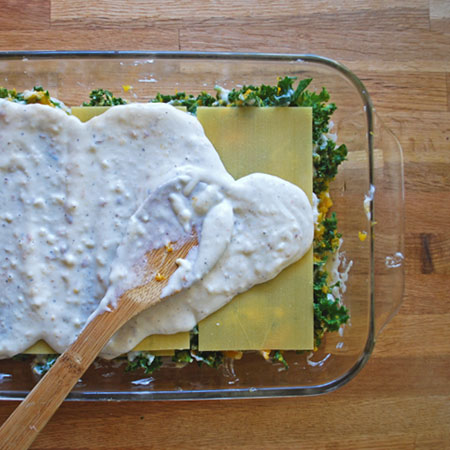 Smother that glorious white sauce over no-boil noodles and layers of kale and squash.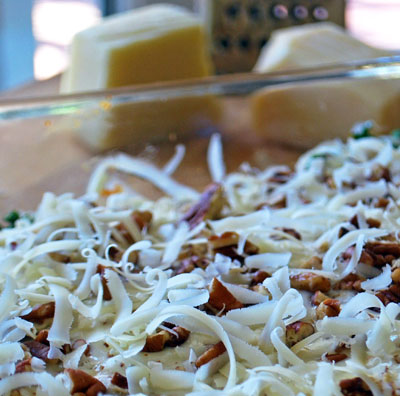 Yes… those are chopped pecans! I wasn't sure how that would go over with my husband, but he actually didn't say anything. He was too busy helping himself to seconds.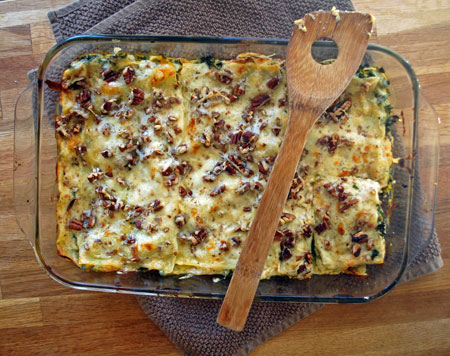 There's a hole in your spatula, dear Liza dear Liza…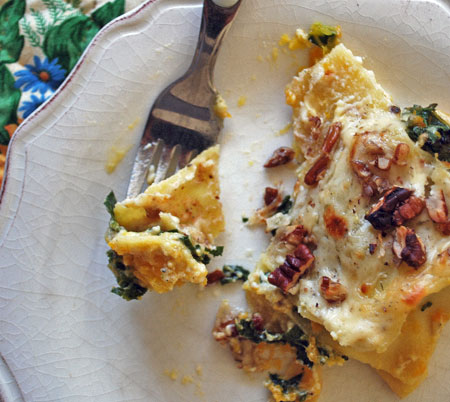 We stuffed ourselves silly.
Butternut Kale Lasagna
adapted from Cooking Light March 2013
Ingredients
¼ cup water
1 (12 oz) package (peeled & chopped) fresh butternut squash
3 cups kale, chopped and remove thick stems
1 tablespoon olive oil
2 tablespoons minced garlic
¼ cup flour
2¾ cups milk, divided
2 ounces Gruyere cheese, shredded and divided
2 ounces Parmigiano-Reggiano cheese, grated
½ teaspoon salt
fresh black pepper
6-9 no-boil lasagna noodles (depending on the size dish you are using).
¼ cup chopped pecans
Instructions
I used a 9"x13" glass casserole dish, but original recipe calls for a 8x8 square glass or ceramic dish which will make the lasagna thicker/taller.
Preheat oven to 450F.
Combine ¼ cup water and butternut squash in a microwavable dish. Cover with plastic wrap, pierce plastic 3 times, and microwave for 5 minutes until tender. Drain.
Combine the kale and the butternut squash, you can mash it up at this point.
In a saucepan over medium heat, heat the oil and garlic for 2 minutes.
In a small bowl, whisk together the flour and ½ cup of milk. Stir this into the saucepan with the garlic. Add remaining 2¼ cups of milk to the saucepan.
Stirring frequently, heat to boiling and cook for 1-2 minutes until thickened. Remove from heat.
Add in 1 ounce of the Parmigiano-Reggiano cheese. Season with salt and pepper. Stir until the sauce is smooth and cheese has melted.
Now assemble the lasagna:
Coat casserole dish with nonstick spay.
(1) White sauce, (2) Noodles, (3) Squash/kale. Repeat!
End with: Noodles then white sauce.
Cover with foil, bake for 20 minutes.
Remove foil, top with remaining cheeses and chopped pecans.
Bake uncovered for 10 more minutes or until cheese is starting to brown and sauce is nice a bubbly.
Let stand for 5 minutes.