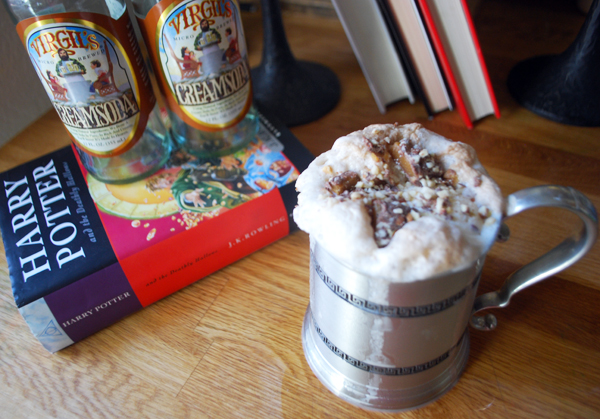 Like most Harry Potter fans, I find it hard to accept that the end is finally here. I'm an adult now but I still have a soft spot for these books and movies. I am looking forward to the day when I can start reading these books to my sons and revisit this magical world all over again.
I can only imagine how many Harry Potter parties are happening this week with the premiere of Harry Potter and the Deathly Hallows Part 2… so here is a beverage you can toast to. My super easy take on what I imagine that creamy cold mug of butterbeer might taste like. With only 3 ingredients, you can spend less time in the kitchen and more time watching that quidditch game. These would be perfect for both young and young at heart fans alike. Enjoy!
Recipe: Harry Potter Butterbeer Floats
Summary: Faster than waving your wand…
Ingredients
Cream Soda
Butter Pecan Ice Cream
some type of Caramel Toffee Candy topping – find in bulk section of the grocery store candy aisle (optional)
Instructions
Drop 1 scoop ice cream into a cold mug of soda.
Top with caramel bits if desired.
Preparation time: 5 minute(s)
Number of servings (yield): 1