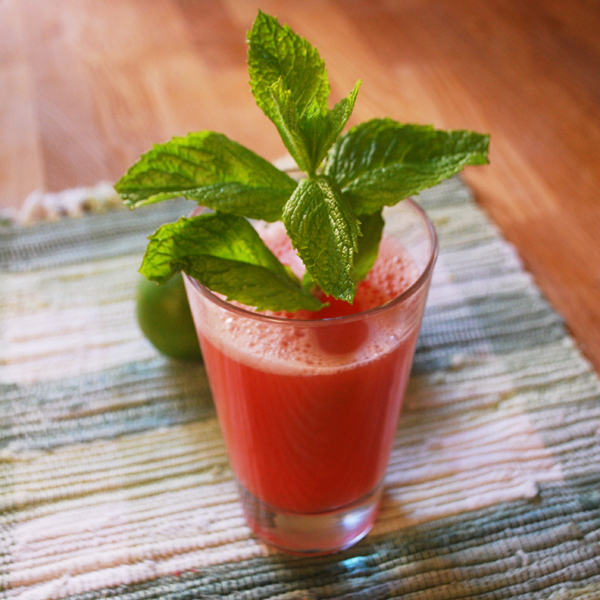 I started to notice agua frescas for sale at Whole Foods (California) for something like $3 for 8oz. The watermelon costs about half that at our local produce stand so I thought I might try to make this myself. I went home and did a little research on this type of drink.
Agua frescas were created in Mexico and are still widely popular and available from street vendors. These beverages pair nicely with spicy food. Many bloggers and recipes instruct you to use a blender (which I'm sure is time saving and still delicious) but if you really want the authentic experience, mash the fruit by hand and don't use ice. The reason… less airy and frothy and less dilution. The beverage should be chilled properly so its nice and cool.
Watermelons are in season and showing up in big bins outside the grocery stores. Instead of walking by them, pick one up and make yourself a cool refreshing beverage. Mash it up and create a refreshing simple and healthy beverage. So much better than the processed fruit juices in the grocery store and so much more fun to make.
My 3 year old was the "masher" and I loved watching him laugh, get a little messy, and do all the work! Honestly, it was a fun activity to do and ended with a rewarding beverage to enjoy on a hot summer day. We loved this drink.. my son was excited to see where juice "comes from" and couldn't get enough.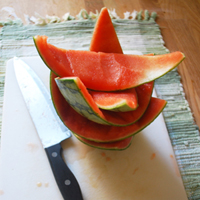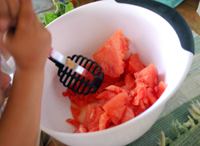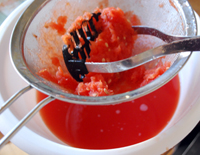 Recipe: Watermelon Agua Fresca
Summary: "Fresh Water"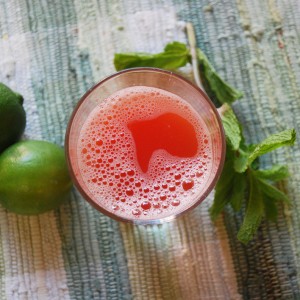 Ingredients
1 5lb watermelon
2 cups cold water
1 Tbsp agave syrup (or other sweetener)
1 lime
1 sprig mint (optional)
Instructions
Cut up the watermelon.
Mash with fork or potato masher.
Use strainer to strain out juice from pulp.
Add water, sweetener, and juice of 1 lime to the juice.
Refrigerate for a few hours.
Garnish with mint and serve.
Preparation time: 20 minute(s)
Cooking time: 2 hour(s)
Number of servings (yield): 4