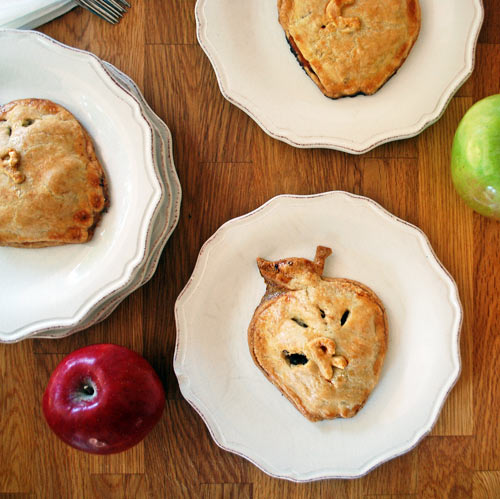 My 5 year old son had his first full week of kindergarten! I watched my baby looking so grown up and so little at the same time, bravely walk into his new classroom wearing an oversized backpack and not knowing anyone. By Friday, I saw him walk into the same classroom but this time wearing a big smile and chatting with a new friend. I think those images will be forever burned into my brain. Needless to say, I am incredibly proud of him and wanted to do something ridiculously sweet for him to celebrate his first true "weekend". (I had to explain to him what "weekend" meant.)
So we had ourselves an apple pie party on Friday night, complete with 5 different filling variations!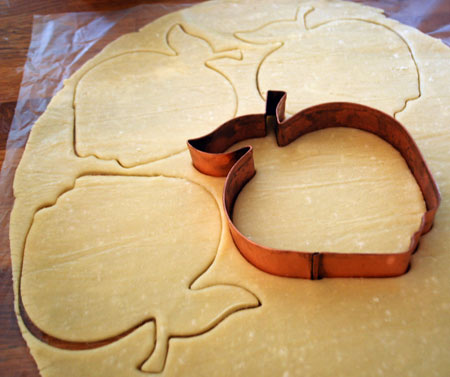 Cutting out the apples. This cookie cutter was a nice and big size 4″. You can find it on Amazon (in a variety of shapes): Old River Road Copper Apple Shaped Cookie Cutter
Using 2 sheets of pie dough, I made 5 personal apple shaped hand pies; but could have easily gotten 6 and still had a little extra dough for the letters. (I only wanted 5 so I froze the leftover dough.)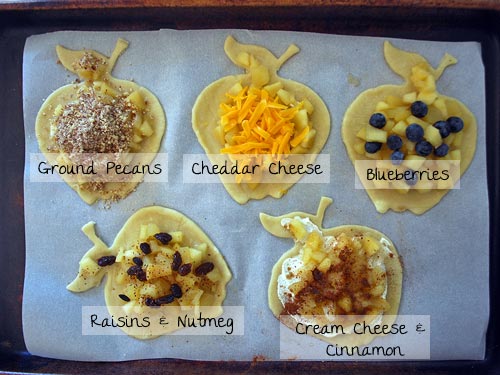 On the menu from top left:
Apple pie with ground pecans, Apple pie with cheddar cheese, Apple pie with blueberries
Apple pie with raisins & nutmeg, Apple pie with cream cheese, brown sugar and cinnamon

I marked each pie with a letter to help us identify the filling at chow time. This turned out to be a super cool game. After taking a bite, my oldest tried to figure out what the letter meant. I know, I know.. what does "S" stand for? Well, it was supposed to be "Spice" because "C" was very clearly taken. But it doesn't really work so I changed it to stand for "Surprise".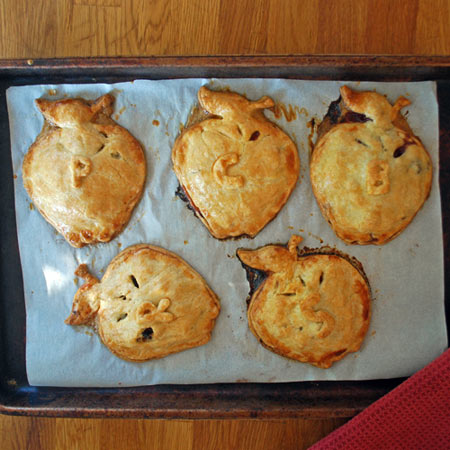 Mmmm… love the smell of freshly baked hot apple pie!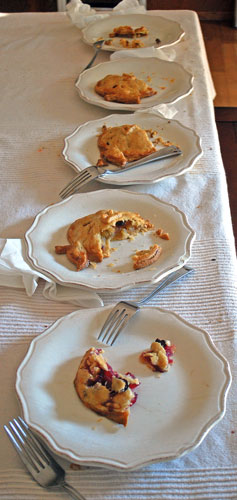 The apple pie party tasting table… it got a little messy.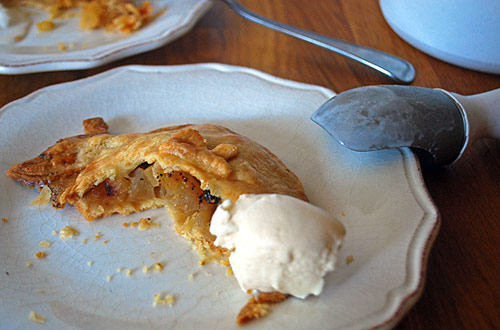 R. Apple hand pie with raisins.
Verdict: perfect. This tasted like a classic apple pie, it was delicious!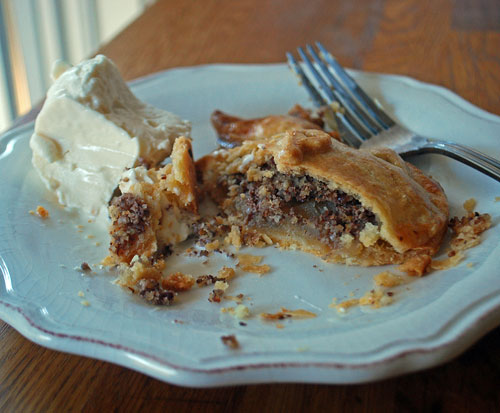 P. Apple hand pie with ground pecans.
Verdict: Al a carte it was a "eh… a bit dry", but with a wallop of home made vanilla ice cream it was to die for!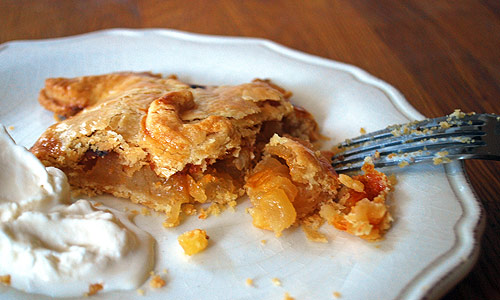 C. Apple hand pie with cheddar cheese.
Verdict: Ummmm. We couldn't decide. It definitely got points for being the most interesting, but compared to some of the others it was far from spectacular. The most surprising revelation here was that it was edible!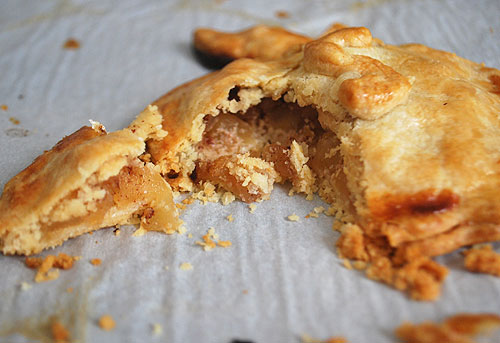 S. Apple hand pie with cream cheese and cinnamon.
Verdict: Not much different than the raisin. The cream cheese doesn't add much, I might try ricotta or marscapone cheese next time instead. Loved this one with ice cream!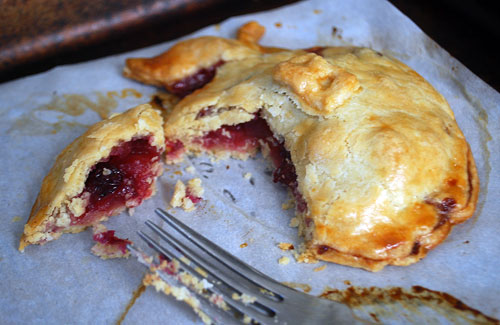 B. Apple hand pie with fresh blueberries.
Verdict: THE CLEAR WINNER! I fell in love with this pie, the blueberries add a nice punch to the sweet apples and creates a beautiful color. This one is a must make.
Back to School Apple Hand Pies
I pre-cook the apples in the microwave to ensure they are soft in the baked pies. You can skip this step if you prefer crisper filling, or cook longed for even softer filling. Have leftover filling? Simply microwave for an additional 5-7 minutes, mash and serve as applesauce!
Ingredients
Filling
1 Tablespoons butter
2 Tablespoons brown sugar
3 to 4 cups fresh apples, peeled, cored & diced.
½ lemon juiced
Pies
2 sheets of pie dough
Variety of ingredients of your choice (raisins, blueberries, spices, etc.)
Egg wash (1 egg whisked with about 2 tablespoons of water)
Instructions
Stir all ingredients together in a microwave safe container.
Microwave for about 5 minutes, stirring the mixture halfway.
Let cool.
Taste for sweetness and add a little more sugar if you prefer before filling your pies.
Preheat oven to 375F.
Roll out pie dough. Cookie cut them into whatever shape you like. Place the cut dough onto a parchment lined cookie sheet.
Fill the pies!
Lay the top cut dough on top and pinch shut.
Cut a few steam vents in the pies and add letter details if you like.
Brush with egg wash.
Bake for 20-25 minutes, or until golden.
Let cool for 5 minutes before serving.