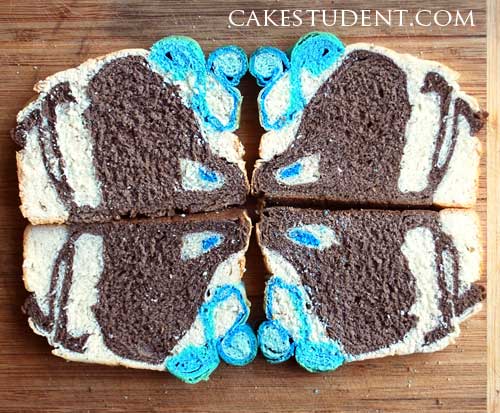 Hmmmm, modern art? It was supposed to be a whale blowing water from its spout, but when arranged this way I see 2 stingrays smooching.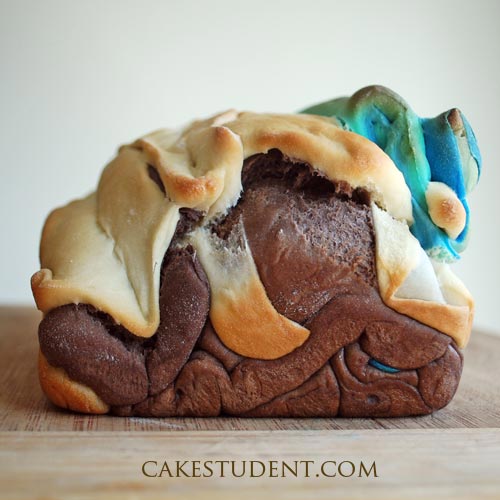 To see step by step instructions on how to make this bread and many other examples of bread art, check out my new eBook!
I picked the dark brown for the whale because we like the taste of cocoa in the bread.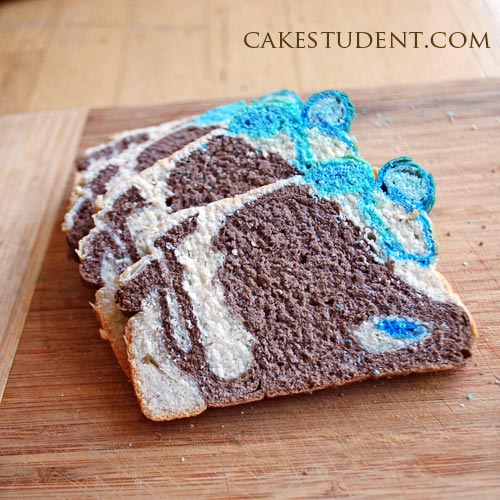 Instead of our usual butter, I topped these slices with left over frosting from my sons birthday cake. This frosting is so light and fluffy made with lemon curd, marscapone cheese and powdered sugar. I got the recipe from Judy's Kitchen, tested first by my mom with great success. The cake was really yummy!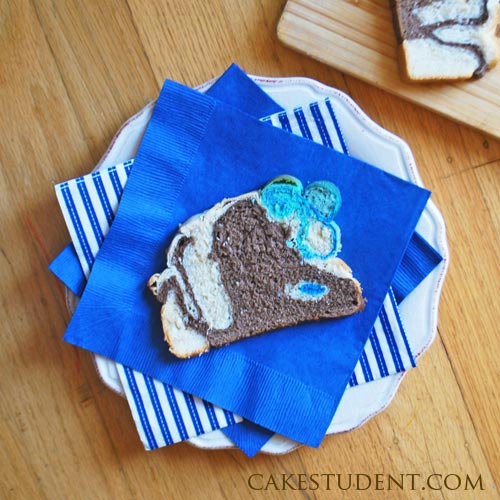 Recipe: Whale Bread
Ingredients
1 cup warm water
2 tablespoons vegetable oil
2-1/4 teaspoons active dry yeast (1 packet)
1/3 cup white sugar
3/4 teaspoon salt
3 cups all-purpose flour
cocoa powder
blue food coloring
Instructions
Stir the warm water and yeast in the bread machine, wait 5 minutes for it to foam. Then add remaining ingredients (except the cocoa powder and green coloring). Set on dough setting. (If you don't have a bread machine, make this like any other bread.. knead the dough, let rise in warm area.)
Separate into 3 dough balls, the blue being much smaller. For the brown color, start with 1 dough ball, place in an electric mixer with the paddle attachment. Add a little cocoa powder and mix… repeat until you get the right color and dough is even (you can knead by hand to help). Wipe clean the mixer. Add the smallest dough ball to the mixer and add blue coloring, mix and knead until you get a light blue color. Divide that into 2 or 3, then make part of it darker by adding more coloring. I wanted 3 different shades of blue to make the water.
Shape your bread! Use a rolling pin, pizza cutter or chopper if you have it. Place into a greased 9×5″ bread loaf pan. Cover with a towel. Let it rise for 30 minutes.
Bake at 350 for 30 minutes. Slice and Enjoy. Store in a ziploc bag to retain freshness or it will get hard over night.
Preparation time: 1 hour(s) 40 minute(s)
Cooking time: 30 minute(s)
Number of servings (yield): 12