Another week, another bread! Fresh, home made bread is now a staple in this house and my son is starting to think that all breads will have a surprise shape once we slice it open (fyi… Spooky Bread, Race Car Bread). Oh how I love watching him try to figure out what that shape is!

I'm trying to teach my 3 year old about the seasons, this bread was a fun way to discuss what happens in Autumn. A lovely tree with all its rusty colored leaves falling from the branches… well I suppose it kind of looks like that, you just have to squint a little!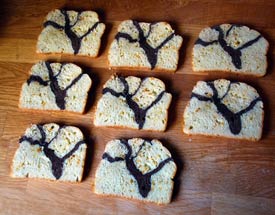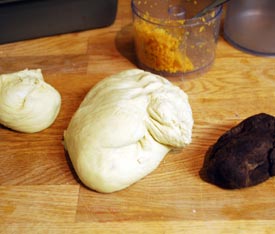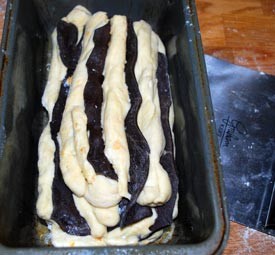 We like to line up the slices to see how different they look. We made a bread forest this time.
To get orange leaves, I grabbed the only thing orange that I could find in my kitchen… a grapefruit! Hey, why not? So I used my peeler and peeled off the rind, then threw the rind into my mini food processor to make tiny bits. I knew I was running the risk of having a really citrusy bread, but it was delicious!
It was best suited for a breakfast food like toast or french toast. It was awesome with the apple butter I made last week too. But nothing beats having fresh bread when it comes straight out of the oven.. you know when the butter just melts on it? Yum.
Recipe: Autumn Tree Bread
Summary: adapted from Amish White Bread
Ingredients
1 cup warm water (110 degrees F/45 degrees C)
2 tablespoons vegetable oil
2-1/4 teaspoons active dry yeast
1/3 cup white sugar
3/4 teaspoon salt
3 cups bread flour
2 TBSP Dark, unsweetened, cocoa powder
"Large Zest" (chopped rind) from 1 grapefruit or orange.
Instructions
Throw all ingredients (except the cocoa powder and zest) into bread maker (liquids first). Set on dough setting. (If you don't have a bread maker, follow steps given in the original recipe.)
Separate into 2 dough balls. One larger than the other.
Put larger dough ball into your mixer with the paddle attachment. Add the zest. Mix until combined. Remove.
Put the smaller dough ball into the mixer and 2 TBSP cocoa powder, mix for about 5 minutes, adding more powder if necessary.
Shape your bread! I use a rolling pin to really flatten the dark dough, I also used kitchen sheers to cut the dough into strips. Place into a greased 9×5″ bread loaf pan. Cover with a towel. Let it rise for 30 minutes.
Bake at 350 for 30 minutes. Enjoy.
Preparation time: 1 hour(s) 40 minute(s)
Cooking time: 30 minute(s)
Number of servings (yield): 12