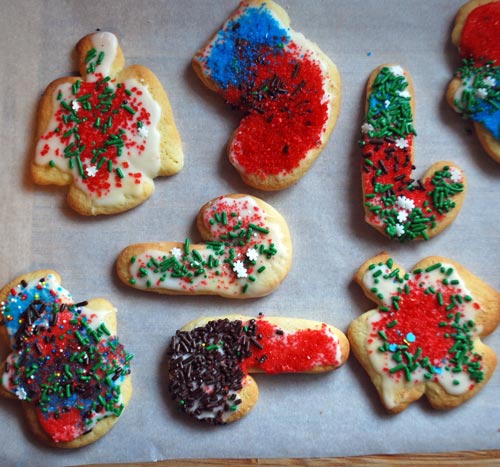 Christmas just doesn't seem complete without some whimsical kid decorated sugar cookies. I found a recipe from a blogger that I follow, Kate at Savour-fare. The dough was easy to work with and baked into light, soft, buttery cookies. They have a hint of lemon and tasted amazing!

This season we had a "sweet" play date with some close friends. Us moms could barely keep up with the little ones… a frosting frenzy while the kids piled on the sprinkles… and I'm talking HEAPS of sprinkles!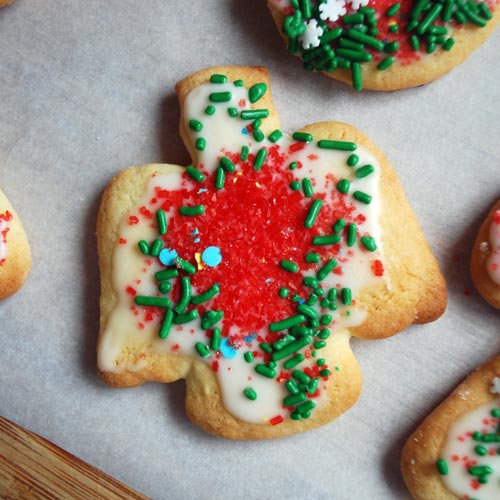 To get a crisper cookie, roll them thinner. Make sure the dough is nicely chilled and it will be very easy to work with.
Sugar Cookies
Adapted from
Savour-Fare
. To make icing: In bowl, add a few cups of powdered sugar, slowly stir in a few tablespoons of milk and mix until you get the right consistency.When the icing is still wet, spread onto each cookie and then decorate with sprinkles.
Ingredients
1 cup butter, softened
2 cup sugar
¾ teaspoon baking soda
½ teaspoon salt
1 teaspoon vanilla
zest of 1 lemon
3 eggs
3⅔ cup flour
2 tsp. baking powder
Instructions
In an electric mixer, beat the butter, sugar, soda, salt, and flavorings until fluffy.
Add eggs.
In a separate bowl, mix the flour and baking soda.
Slowly add the flour mixture to the mix until combined.
Chill the dough before rolling out. If you can leave it overnight it works best!
Roll out on a floured surface, cut out various shapes.
Bake at 450 degrees 6-8 minutes. Cool on racks, ice and decorate.