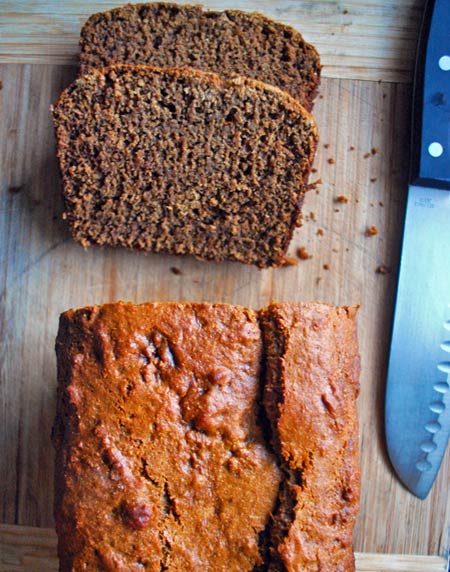 I've been a mom for over 4 years now, and in that time I have read more than enough parenting books than I care to remember. But two books that have really stuck with me are quite simliar to one another. Each are written by a young mother who moves to France and learns the French approach to (among other things) teaching children healthy eating habits and good manners.



The first book is called Bringing Up Bébé by Pamela Druckerman. I made her Yogurt Cake with my son last year and highly recommend it as a baking project to do with kids.

The second book is called French Kids Eat Everything by Karen Le Billon. She provides several recipes at the end for you to try at home. (This is where the spice bread recipe came from.)
Together they have convinced me that I have done everything wrong. Ok, maybe not everything, but it would appear that the French really know what they are doing when it comes to food.
Unfortunately my 1 year old is becoming a food snob (he won't eat anything that is small and round such as blueberries, raspberries, peas, coucous, gnocchi…) so I've decided to try and follow a few of Karen Le Billon's rules:
1. No random snacking. Especially not in the car or in response to tantrums. (This is an extremely difficult habit to kick, but we are working on it).
2. Feed on set schedule every day: Breakfast, Lunch, Snack, Dinner. (Almost there, we have eliminated second breakfast!)
3. Always sit down at the table and eat as a family for every meal.
4. Serve as much unprocessed food as possible, and try to offer a variety of vegetables throughout the week. (I am finding that if I give the new food as a small stand alone 1st course, then they are more willing to try it because they are so hungry. This sounds kind of evil, but it works.)
5. Don't force them to eat, but encourage them to try everything on the plate. (Not working for my youngest, but my 4 year old is rolling with it).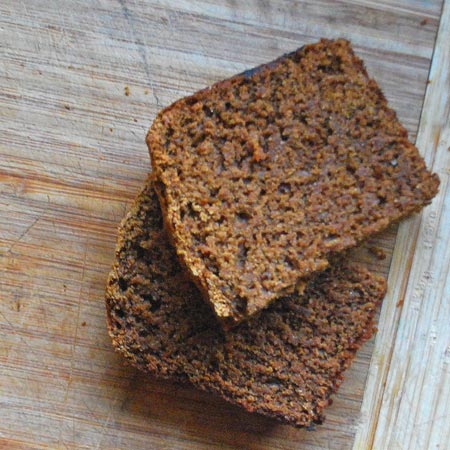 This spice bread ("pain d'épices") is very popular in France. Very much like a dense cake. Moist, sweet, and spicy (in the nutmeg sort of way). We loved it.
No eggs or sugar is called for, only molasses and honey. It also contains half wheat flour, and its STILL good. Really good.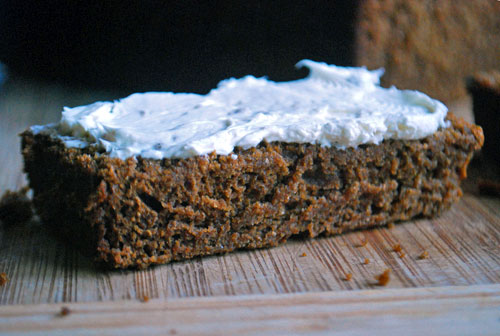 This was a baking project I did with my 4 year old. We baked in the morning and waited until afternoon snack to have a slice. That rule was hard for him to swallow, but gave him a "lesson in patience" as the French might say.
Bon appétit!

Spice Bread and French Kids Eat Everything
adapted from French Kids Eat Everything by Karen Le Billon. We used all spices but the anise seeds.
Ingredients
1½ cups all-purpose flour
1½ cups whole wheat flour
2½ teaspoons baking soda
1½ teaspoons ground cinnamon (optional)
¼ teaspoon nutmeg (optional)
¼ teaspoon ground cloves (optional)
¼ teaspoon ground ginger (optional)
1 teaspoon anise seeds (optional)
1 cup honey
½ cup molasses (or use an additional ½ cup honey)
3 tablespoons salted butter (or unsalted but add a pinch of salt)
1 tablespoon finely grated orange zest
1½ cups milk
Instructions
Preheat oven to 325F.
Butter a loaf pan and dust with flour.
In a large mixing bowl, stir together the flour, baking soda, and spices.
In a medium pot over low heat, stir together the honey, molasses, milk, butter, and orange zest until combined. Remove from heat.
Stir the liquid mixture into the dry mixture until combined, but do not over mix it. It will have an airy mousse like consistency.
Pour the batter into your [prepared bread loaf pan. Bake for 50-60 minutes. (Done when a knife/toothpick inserted comes out clean.)
Note - For best results, let cool for a few hours before slicing.