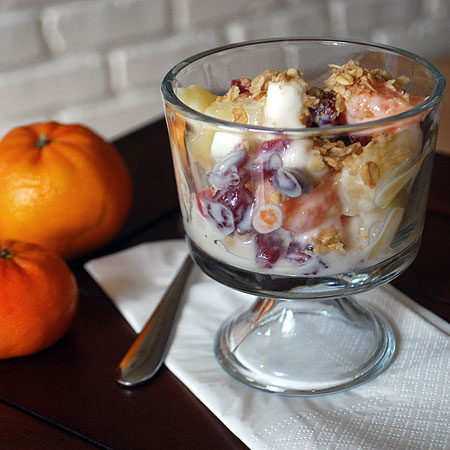 In northern California, it definitely feels like summer weather, and summer weather means time for BBQ's and picnics! I love this simple version of ambrosia salad, it's a definite must on the picnic buffet table.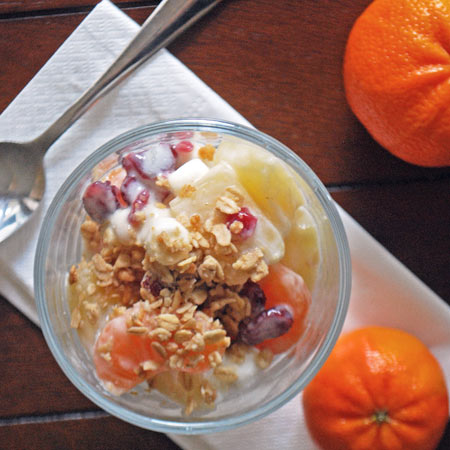 At 161 calories a serving, this would be a wonderful healthy dessert choice for a weektime meal.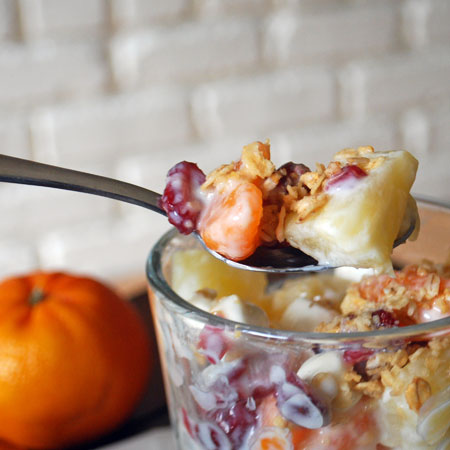 I found the recipe in The Vegetarian 5-Ingredient Gourmet: 250 Simple Recipes and Dozens of Healthy Menus for Eating Well Every Day
by Nava Atlas. The recipe calls for 5 ingredients, but I like to add mini marshmallows making it into a 6 ingredient ambrosia salad. Heres the recipe…
Pineapple Orange Ambrosia Salad
adapted from The Vegetarian 5-Ingredient Gourmet cookbook by Nava Atlas.
Ingredients
1 (20 oz) can of unsweetened pineapple chunks, well drained
4 or 5 clementine or mandarin oranges, peeled and sectioned
½ cup dried cranberries
1 (8 oz) container of low-fat vanilla yogurt
handful of mini marshmallows (optional)
granola (optional)
Instructions
Combine the pineapple, oranges, cranberries, marshmallows, and yogurt in a large bowl.
Serve into individual bowls and top with a sprinkle of granola.