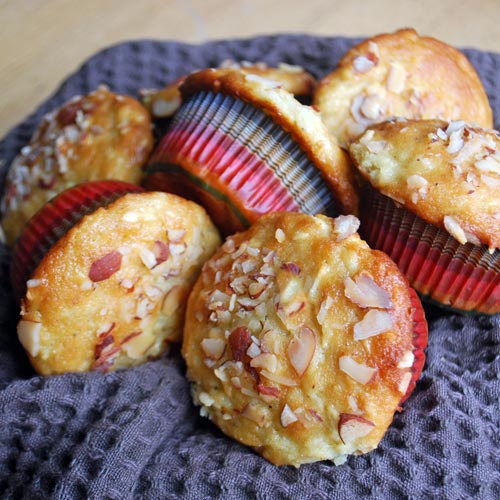 I started baking last night, my husband excitedly asked "What's cookin good lookin?" I replied "Parsnip muffins"… the look I got, oh my, pure hatred! The man was totally disgusted with the thought of a parsnip making its way into his breakfast muffin. I, on the other hand, was totally intrigued with the idea… I mean if carrots are delicious, why not parsnips?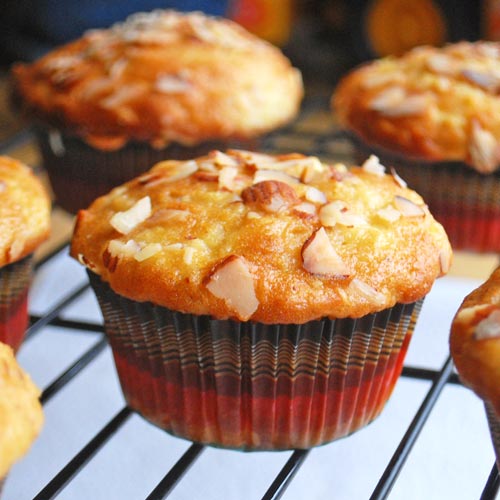 The sun rose, breakfast time came and went, and so did 10 muffins. Yes, the three people in this household that have a full set of teeth wolfed down 10 muffins. They were yummy, different and delicious. They tasted sweet, light and fluffy, with a definite musky rooty undertone to them.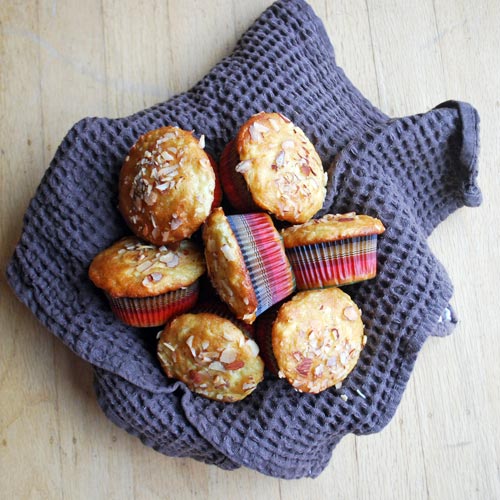 I love going to restaurants that provide a variety of fresh breads in their bread baskets. I could easily see this muffin in one of those baskets for a dinner party; an interesting accompaniment to a hearty meal like roast beef.
Don't be discouraged if you are baking for 1 or 2 people, these will freeze well. Just ziploc them individually (once they have cooled completely) and then freeze. Its actually the easiest way to enjoy breakfast on the go, they microwave in seconds.
Recipe: Parsnip Muffins
Summary: adapted from Alton Brown's Good Eats 3 Parsnip Muffin recipe
Ingredients
1/4 cup sliced almonds
2 cups all-purpose flour
1 tsp baking powder
3/4 tsp baking soda
1/2 tsp grated nutmeg
1/2 tsp kosher salt
3 whole eggs
3/4 cup plain yogurt
1/4 cup vegetable oil
1 cup sugar
2 heaping cups of grated parsnip (1 very large parsnip)
Instructions
Preheat oven to 375F. Toast the almonds (on a baking sheet or pie dish) in the oven while preheating (about 10 minutes).
Combine dry ingredients (flour, baking powder, baking soda, nutmeg, salt) in a mixing bowl and stir well.
In a separate large mixing bowl, whisk together the wet ingredients (eggs, yogurt, oil) and sugar.
Stir the flour mixture and the parsnips into the large wet ingredient bowl until combined, but do not over stir. Once combined, scoop the mixture by 1/3 cup into a greased muffin tin. Sprinkle your almonds on top.
Bake for about 20 minutes or until golden.
Cool on a cookie sheet. Store in an airtight container or freeze in individual ziploc baggies.
Preparation time: 10 minute(s)
Cooking time: 20 minute(s)
Number of servings (yield): 15