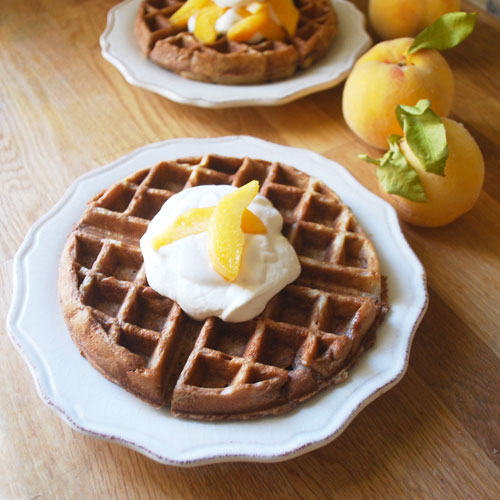 This was the most unplanned, easy, and delicious breakfast I may have ever made. My son asked for waffles on a Sunday morning, so I heated up the waffle iron, pulled out the Bisquick, and started to whip up the waffle batter when I saw the nutella sitting out on the counter from the night before (hubby likes it in his ice cream).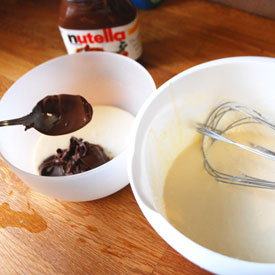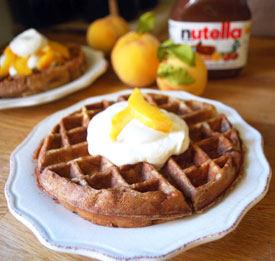 I decided why not swirl some chocolaty goodness into my mix and see if I can't get a marble looking waffle. Well, the marble thing didn't really come out so well, I probably mixed too much, but really it isn't necessary, the taste was so good these waffles didn't last long enough for anyone to admire the swirls. They were sweet but not at all overly sweet… they don't need syrup and could be served for breakfast or dessert.
Then I noticed those beautiful peaches in the fruit bowl that our friends had thoughtfully picked from their own peach tree and brought over for us. So, I sliced a few of those, next, whipped up the last of the whipping cream in the fridge with some brown sugar so the peaches had something fluffy to sit on. The result… oh. my. gosh. It was one of those dishes where you want to eat so much your stomach hurts because your taste buds can't get enough.
Recipe: Nutella Waffles with Peaches n Cream
Ingredients
1 batch of waffle batter (made per package instructions)
1/3 cup nutella
1 cup heavy whipping cream
1 TBSP brown sugar
1 peach
Instructions
Heat up the waffle iron.
Mix the nutella in the waffle batter. Make your waffles. Note- I spray my iron before each waffle, otherwise it sticks. I also use setting 3, or medium. If you want to try marble, take a cup of the batter and mix the nutella with it in a separate bowl, then stir it back into the big batter mix slightly.
In your electronic mixer, using the wire attachment, whip up the whipping cream until soft peaks form (about 5 minutes). Add the brown sugar, whip for a few more seconds.
Serve the waffles with the cream and peach slices.
Preparation time: 10 minute(s)
Cooking time: 10 minute(s)
Number of servings (yield): 4