This adorable lamb cake is perfect for birthdays or Easter or baby showers.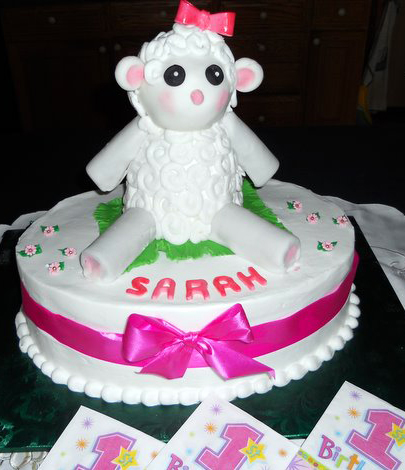 Happy 1st Birthday to my beautiful niece, Sarah! She is crazy in love with her lamb dolls so my mom (aka grandma) did not disappoint when she made this cake for the special occasion. The cake base was for all the guests, and the little lamb sitting on top was specially made with the intention of it getting picked up and hugged and eaten, which it was! Sarah's fingers, hands, face, and well… Sarah was completely covered in frosting and cake within minutes.
I asked my mom to take some photos of the cake building process so I could share with our more ambitious Cake Student visitors the secrets to assembling such a cake. So without further ado…
Big cake foundation, to be cut and handed out for all party guests to enjoy. This one is frosted in butter cream and accessorized by a bright pink ribbon.
Roll out some green fondant, cut into a square. Then using a special Impression Rolling Pin "pitter patter", roll over the fondant to create the embossed baby foot prints. Place on top of the cake foundation.
Assembling the lamb's head and body will require 3 small round cakes. My mom baked these using the Wilton Mini Wonder Mold. Using a straw to hold the pieces together to form the body and head. The lambs head is half fondant, half butter cream.
Yum… ho hos Hostess Cakes. Just looking at this picture make me want to go out buy a box! These were the perfect size, they were just rolled up in a thin layer of white fondant. Slice a diagonal sliver off the arms so they fit properly. Then attach them to the body with a straw.
After all body pieces are in place, frost a base layer with butter cream to even out the body. Then using butter cream and tip #4, make swirly pattern to cover the body.
The ears, eyes, and ribbon are all hand molded fondant.
Using a powdered food coloring and a paint brush, brush pink onto the ears, cheeks, nose, and ends of the arms and legs.