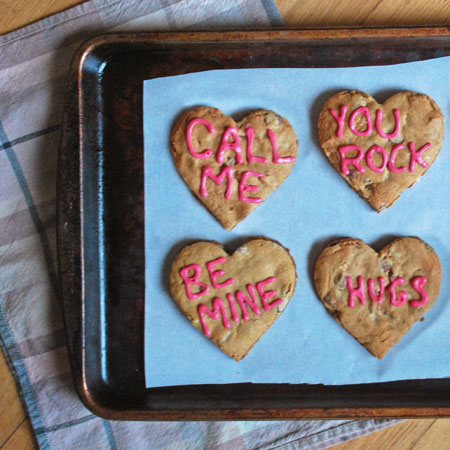 Chocolate chip cookies just got a whole lot sweeter. And this, my friends, is a whooooole lotta cookie. Two in fact. (The cookie cutter is quite large you see.)

My son's eyes just about popped out of his head when he saw how big his Valentine cookie was. And when my husband got his "special message", well… he was pretty happy too (wink wink).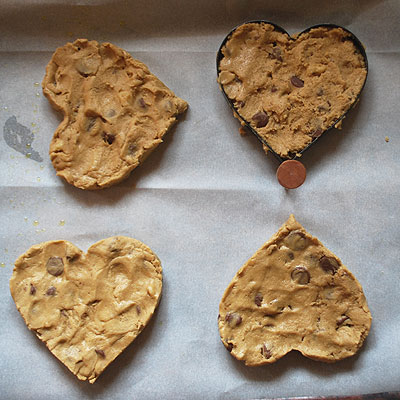 I used my favorite chocolate chip cookie dough recipe by Roland Mesnier (former Executive White House Pastry Chef). This is the BEST recipe for soft & chewy chocolate chip cookies. I mean, consider the source people. Roland Mesnier! Besides, they are made with molasses… and Lord knows how I love baking with molasses.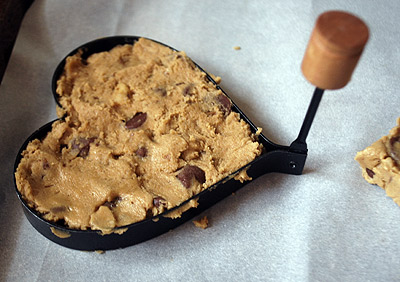 Using a heart shaped cookie cutter or pancake ring to shape the dough before baking helps keep the cookies consistent not only in shape but in thickness as well, which makes for even baking.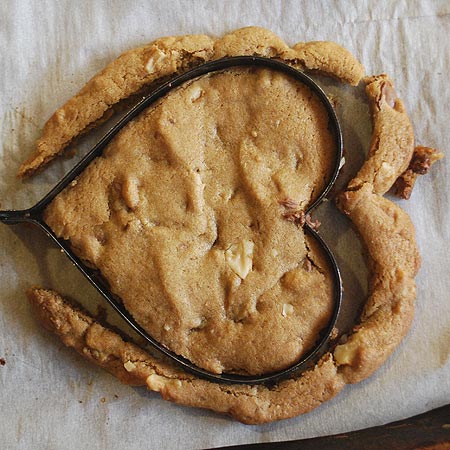 During baking they spread a little and I wanted my hearts looking sharp. So when they came out of the oven, I let them rest for just a minute before trimming them with the cutter. I discovered that they trim nicer with fewer cracks if you do it while the cookies are still warm. Just be gentle and rub a little oil on the inside of the cutter.
(BTW, cookie scraps make a lovely ice cream topping).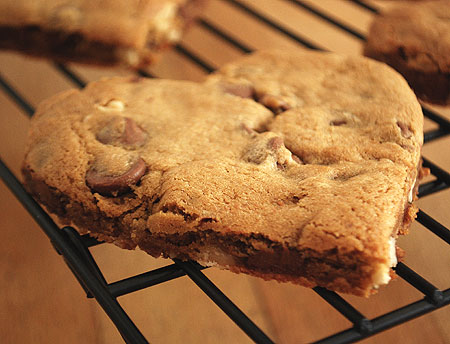 Making things into heart shapes, well its sort of my thing. Valentine's Day just isn't complete without a heart shaped sugary treat. Last year was Sweetheart Cherry Pies, and the year before were the Sweetheart Rice Crisipie Treats.)
Happy Valentine's Day!
Icing
Sorry, my icing recipe isn't measured, I did this on a whim and it worked well. But heres how I did it:
Ingredients
about 1/2 cup confectioner's sugar (powdered sugar)
a few drops food coloring
a few drops vanilla extract
a few tablespoons water
Instructions
stir about 1/2 cup of confectioner's sugar, with a few drops of food coloring, a few drops of vanilla extract and add water slowly 1 tablespoon at a time (keep stirring) until you get to a medium consistency. It should be thick enough to hold your letters when you pipe them onto the cookies. If its too thin the letters will run together and its frustrating as heck. Too thick and it will be hard to squeeze out of the frosting bag. I used tip #5, but a smaller one might work just fine.
Practice writing your letters on wax paper first and wait about 20 seconds for it to harden.
Sweetheart Cookies
adapted from Dessert University by Roland Mesnier
Ingredients
3 cups + 3 tablespoons all-purpose flour
1 teaspoon baking soda
¼ teaspoon salt
1 cup unsalted butter, softened
1 cup granulated sugar
⅔ cup packed brown sugar
2 eggs
¼ cup molasses
1 tablespoon vanilla extract
2 cups chocolate chips
1 cup chopped walnuts
Instructions
In a large bowl combine the flour, baking soda, and salt.
In a large mixing bowl, beat together the butter and sugars. Once smooth, add the eggs, molasses, and vanilla extract.
Slowly add the flour mixture, don't over mix. Once incorporated, add your chocolate chips and walnuts. Refrigerate for about an hour.
Preheat oven to 400F.
Line your baking sheets with parchment paper.
To make heart shaped cookies, spray the inside of your cookie cutter or pancake ring with cooking spray or oil. Then press the dough into the cutter to shape. Gently lift your cutter and repeat.
Bake for 8-10 minutes or until golden. Let them cool on a cookie rack. Store in an airtight container.
Note- If you use the heart shaped pancake ring, this will produce 13 cookies (a bakers dozen). If you do heaping tablespoon sized cookies you can get up to 70 cookies.