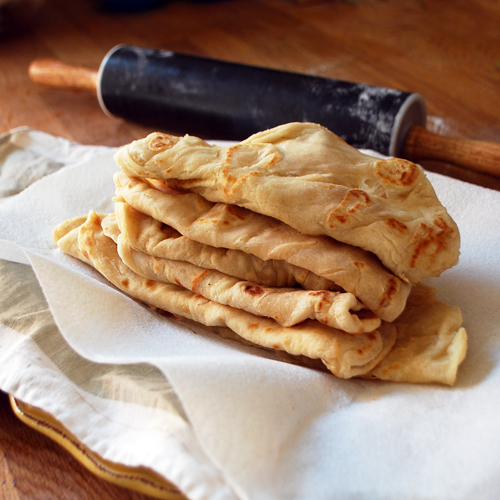 Fresh soft and delicious roti ("rho-tee"), a bread accompaniment for various spicy Indian curries and sweet puddings (see my last post of Halwa pudding). This roti bread was taught to me by my mother in law, shown to me, not given a written recipe with measurements (I wonder if she even owns measuring cups!), oh no no… mom eyeballs the amounts and can tell by the texture if its the right amount. She does everything by heart and with heart. Mom has been making this for years and is probably finding this post rather amusing!
This particular way of making Roti results in a very soft and pliable bread, so its great for using in lieu of a spoon. Since I didn't grow up eating roti and curries, I have had to practice this recipe over and over again and record my measurements. My husband thinks I finally got it right. So here it is…
Recipe: Roti
Summary: Guyanese Style
Ingredients
2 cups All-purpose flour
1 TBSP Baking Powder
1 cup water
dash of salt
vegetable oil for brushing (about 1/4 cup)
Instructions
Mix the dry ingredients together in a large bowl. Add water slowly and roll the flour onto the water to avoid your fingers sticking too much. Mix with your hands until its all combined and slightly sticky. Keep kneading away at it for a few minutes.
Add a little extra flour to the bowl and roll the dough ball to make it nice and soft. Leave in the bowl and cover with a damp towel for at least 30 to 45 minutes.
Break the dough into golf ball sized pieces (I usually make about 7).
Now look at my pictures to help you… take a ball and:
– roll it out (try to use as little flour as possible, more flour = tougher bread)
– brush top side with a little oil
– fold "brochure like" with each side toward the middle. Next, fold the same way but with the bottom up, then top down. You should have a little folded square (oiled side tucked inside, soft on outside).
– repeat this for all balls.
– Let them sit another 30 minutes.
Prepare your workspace by spreading out a kitchen towel onto the counter. Place a paper towel onto that. (This is where you will be "smushing" the roti.)
Heat a skillet to medium high, brush with oil. Now roll out a ball dough into a round circle. Toss the roti on the skillet, wait for it to bubble (1-2 minutes), brush the top with oil then flip it. Brush the new top with oil (the already cooked side) and flip again. Wait about 10 seconds then remove from the skillet and place onto the prepared paper towel. Fold the towel in half, then hold accordion like and smush together several times (like 20 times). Roti should be soft and floppy. Place on a plate and cover to keep warm. Repeat for all.
Preparation/Rising time: 60 minute(s)
Cooking time: 15 minute(s)
Number of servings (yield): 7