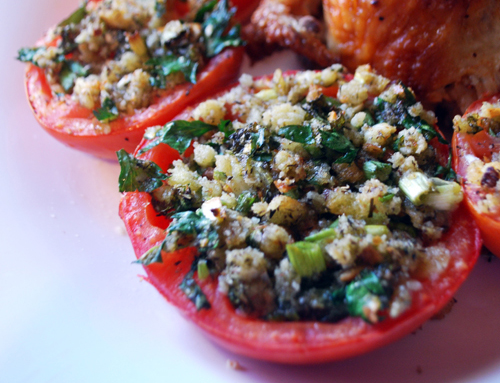 Well, I finally did it… I made my first Julia Child recipe and I was not disappointed. I checked out "Mastering The Art of French Cooking" by Julia Child from our library. What an incredible cook book, it is actually fun to read! I thought her recipes would be overwhelming and difficult, but there are so many simple recipes with easy instructions to choose from. I must have spent more time flipping through it trying to decide what to make than the actual making.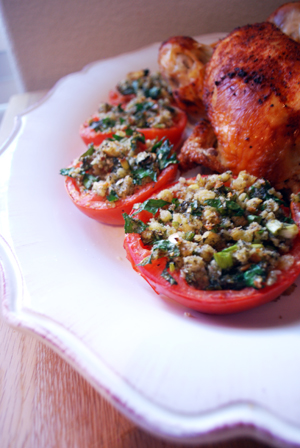 So… the sweet or the savory? I figured we had enough sweet stuff around here and I should take advantage of the beautiful summer tomatoes showing up at the local produce stand. It was quick and easy to make. The stuffing was kind of crispy but still moist. To complete the meal, I made a simple green salad and picked up a rotisserie chicken from the store. The tomatoes looked so awesome hugging the chicken roast on a platter.
So colorful, quick to make, and delicious… this is a recipe to remember for your next formal dinner!
Note – Depending on the size of your tomatoes, I might recommend doubling the filling mixture.
Recipe: Tomates à la Provençale
Summary: from Julia Child's Mastering the Art of French Cooking
Ingredients
6 tomatoes
2 cloves of mashed garlic
3 Tbsp minced green onions
4 Tbsp minced basil and parsley (or only parsley)
1/8 tsp thyme
1/4 tsp salt
1/4 cup olive oil
1/2 cup fresh breadcrumbs
Salt and pepper to taste
Instructions
Preheat oven to 400° .
Cut tomatoes in half crosswise, gently squeeze out the juice and seeds. Season with salt and pepper.
In a bowl, mix the remaining ingredients together.
Evenly distribute the filling into the tomatoes.
Arrange on a shallow lightly oiled roasting pan.
Bake at 400° for 15 minutes or until the tomatoes are tender but still hold their form, the filling should be toasty.
Preparation time: 10 minute(s)
Cooking time: 15 minute(s)
Number of servings (yield): 6