Oooooh Yum. These delicious Gougères (french cheese puffs) were the first thing to catch my eye when I brought home Dorie Greenspan's cookbook Around My French Table.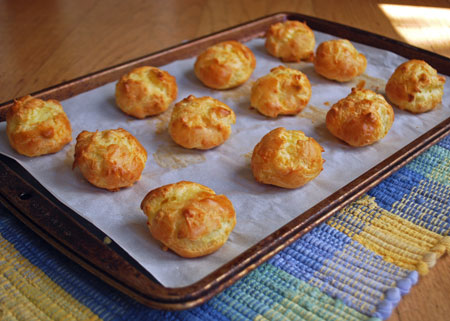 My kids couldn't keep there fingers off them. Soft, airy, cheesy. These were amazing.
Reminded me of yorkshire pudding with the air pocket centers, but much lighter.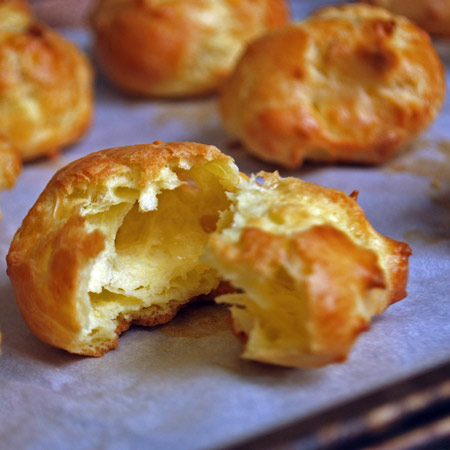 Leftover dough can be spooned onto wax paper and put into the freezer for a few hours. Once frozen, simply bag the frozen nuggets and keep frozen for future use. When you are ready to use, take them out and pop them in the oven, no need for thawing!
Traditionally, gougères are served as appetizers with a glass of white wine or Champagne. If you can do the make ahead and freeze method, these are perfect and convenient for entertaining.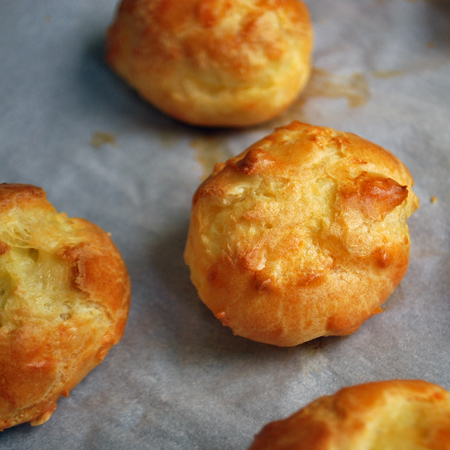 Dorie Greenspan suggests a variety of cheeses so experiment with your favorite.
Oddly enough, the cooking process is very similar to making play dough. I recommend reading the instructions through once before you begin. I worked quickly and it helps to have everything prepared before you start.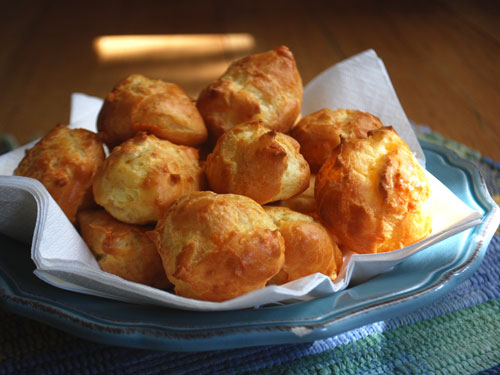 I love this cookbook. So far I have made several savory dishes all getting rave reviews from my family. I plan to cook my way through this book.
Up next, dessert!
Gougères
adapted from Dorie Greenspan
Ingredients
½ cup whole milk
½ cup water
1 stick unsalted butter (8 tablespoons)
½ teaspoon salt
1 cup all-purpose flour
5 large eggs, room temperature
1½ cups grated cheese (I used Gruyere and Swiss, you can also use cheddar)
Instructions
Prepare the oven by positioning the 2 racks evenly.
Preheat to 425F.
Line 2 baking sheets with parchment paper.
In a medium sized saucepan over high heat, bring milk, water, butter and salt to a boil while whisking.
Add flour, lower heat to medium-low, and stir with a wooden spoon until dough is smooth (a few minutes). Should resemble play dough.
Remove from heat and transfer to an electric mixer with a paddle attachment.
Slowly add eggs one at a time. Make sure each egg is incorporated into the dough before adding the next egg. The dough should be shiny and smooth.
Finally, beat in the cheese.
Spoon onto prepared baking sheets by the tablespoon, about 2 inches apart. I made a dozen on each baking sheet. (The leftover dough I froze.)
Put the sheets into the oven and immediately reduce the oven temperature to 375F. Bake for 12 minutes, then rotate your sheets top to bottom and also front to back to ensure even baking. Bake for an additional 12-14 minutes, or until golden.
Serve warm or room temperature.